The most crucial facet of your small business is the right upscaling in the right direction. The time is limited and the investment is precious. In order to evolve your small business faster , you need some help in hand. That help will be by a CRM. A famous economist said " Customers are always right". Every business giant invests a lot of time and money in building reliable customer equity or better business relationships. There are some incredible Amazon PPC management software tools that can also be helpful.
Why does your business need a CRM tool ?
A CRM ( Customer Relationship Management Tool) is a high-end software that aids in managing your business relationship with the existing and prospective clients. The objective of CRM is to integrate effortless sales with the retention of customer equity.
" How you gather , build or manage information will determine whether you win or lose." – Bill Gates
It is more than needful to have a CRM software especially when your business is at the introductory stage of the enterprise cycle phase. Now, let us dive into the top productive features you should look for in a CRM software :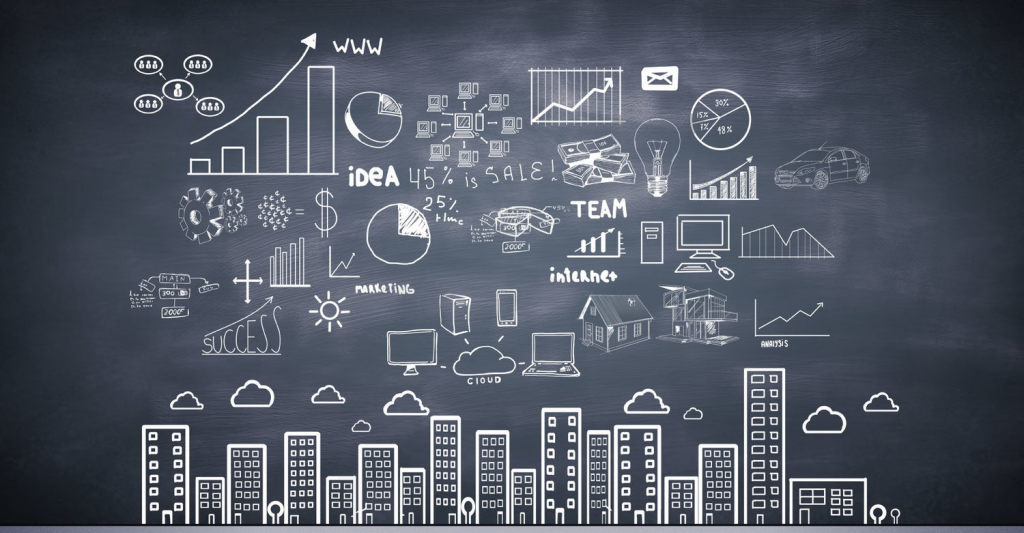 Cost-Effective – The CRM software is cost-cutting investment in the long term economically. Your business can function in a coordinated manner if you can implement the CRM in the small business with ease and it can cut down on manpower requisites too.
Performance Analysis – The business has ups and downs. However , in order to go with the flow , the marketers need to stay updated with the market from time to time and give the activity or performance reports to the higher authority.
Observing the Customer Behaviour Up-Close- The changing patterns of the market induces the customers to behave as per their expanding perceptions and tastes . Marketers of small business enterprises can evaluate the trend which is presented clearly in a CRM software.
TOP 10 BEST CRM TOOLS FOR SMALL BUSINESS ( BOTH FREE AND PAID CRM TOOLS )
1.Hubspot
Hubspot is a reputed CRM software that helps to boost marketing, sales and service software that grows business without adjustments. The motto of the brand is "What's good for business" is also " Good for the customer." Hubspot is a powerful solo enterprise that offers a completely free CRM at its core suited for your small business needs.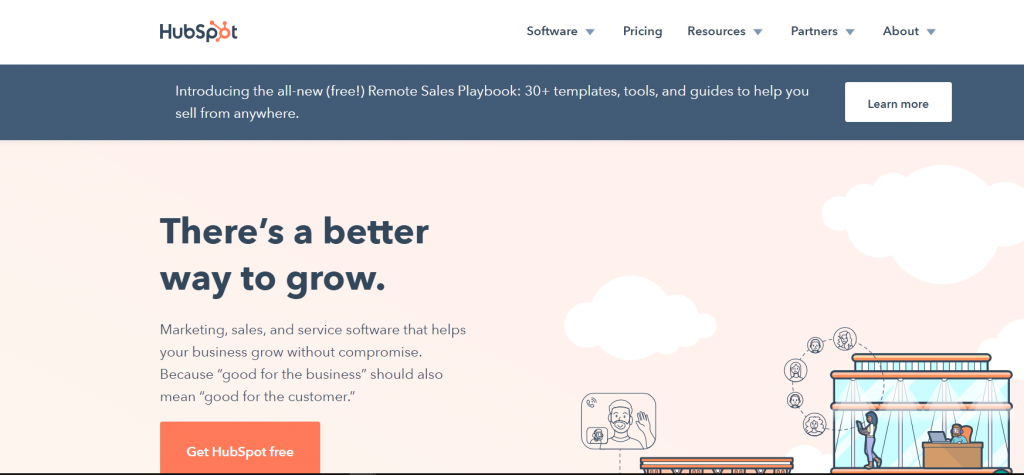 Tools – Free Hubspot CRM – Website (https://app.hubspot.com/signup/crm/) along with other digital marketing essentials like – CMS Hub, Marketing Hub, Sales Hub, Service Hub etc.
Features
Contact Management
Contact Website activity
Companies
Deals
Reporting Dashboard
Ad Management and Email Tracking .
Pricing – Hubspot has free CRM Features under Free Tools and CRM cadre. (https://www.hubspot.com/pricing/crm)
What Customers Love about it ?
HubSpot CRM is named as the best free CRM by G2 crowd users .
Better Customer relationships
Better Investment in Ad Campaigns
More Productivity and less time consuming.
2. Salesmate CRM
The Salesmate CRM is the specialised software solution to organize the sales process, win more deals and create a happy customer base with the automated sales CRM. It helps in eliminating the busywork and implementing the modern sales techniques to engage more projects. The right insights can sell faster and render a personalized experience to each customer. Website – ( https://www.salesmate.io/)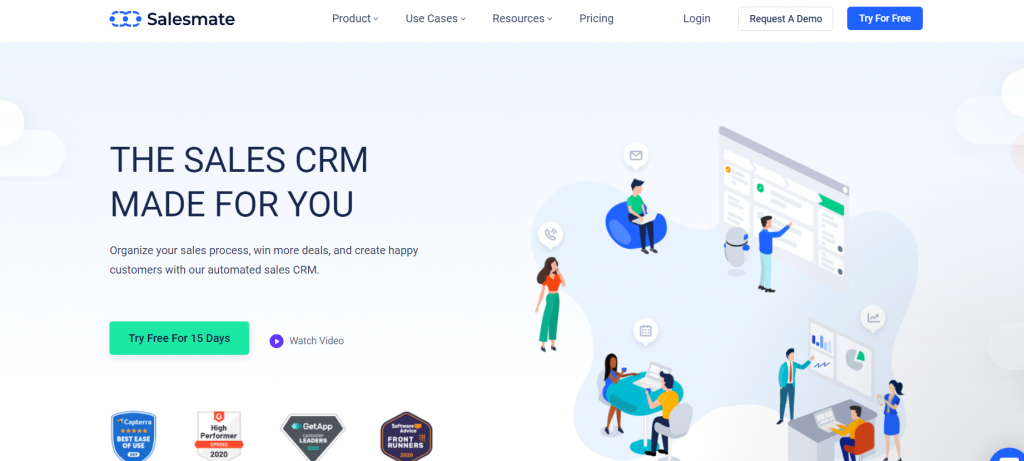 Tools – Sales Pipeline , Activity Tracking , Email Tracking , Built-In Calling , Product Management , Deal Management , Mobile CRM, Google CRM.
Features
Sales Pipeline
Smart Emails
Sales Activities
Call and Text
Pricing – The Starter Pack for smaller teams will cost $12 per user/month and it is billed annually. ( Website – https://www.salesmate.io/pricing/)
What Customers Love about it ?
CEO- Johnny Beig ( Atlantic International) Says : " I like how stages are set and we move the deals accordingly."
CEO-Paul H ( Printing ) says : " The ability to customize software to do what you want is incredible , it can create workflows so repetitive…"
3. Zoho
Zoho CRM builds everlasting customer equations on the best CRM platform. It empowers a global community of over 1,50,000 business enterprises across 180 counties to transform the lead generation capacity , customer engagement and revenue boost.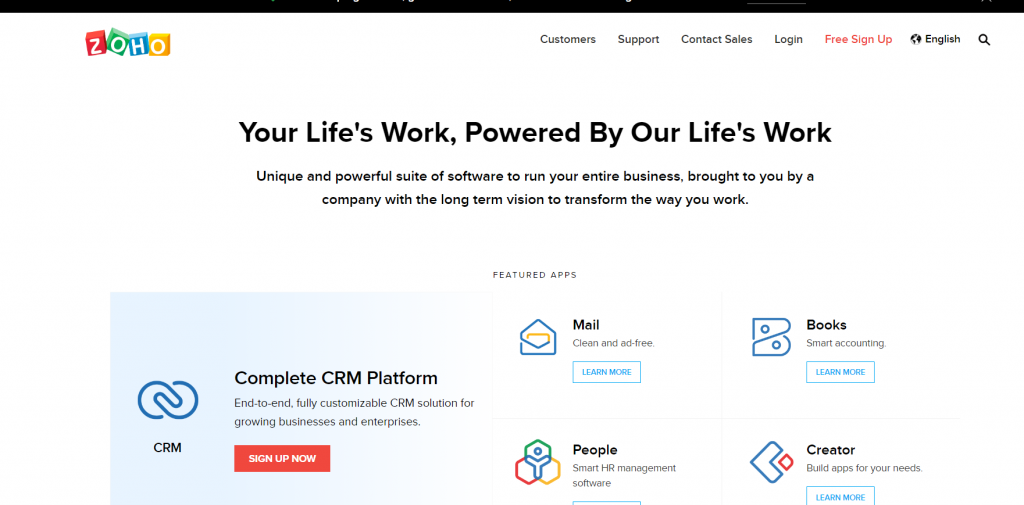 Tools – Bigin for small Business . Bigin boosts the engage prospects , manage pipeline and close deals.
Website – ( https://www.zoho.com/bigin/?src=crm-header)
Features
Engaging Prospects – Built-in telephony, Email , Twitter and Webforms
Managing Pipelines – Pipeline View , Customization , Multiple Pipelines and Activity management .
Close more deals with – Workflows , Products , Dashboards and the signals .
Pricing
Bigin ( Express Plan) – It has Rs. 550 billed per user per month and it has the free trial facility too.
What Customers Love about it ?
Our privilege to work with the tier-1 brands like Amazon, Ola , Hotstar , IIFL , Zeta etc. Let us delve into the feedback.
Luison Lassala ( CEO – Bedrock Success) says : " We were so impressed by Bigin's perfect fit for small organizations."
Vikas Kakkar ( Hire XP) says : " I was looking for a simple lead management and automation tool and I have finally arrived at the right platform.
4. Agile CRM
Agile CRM is a software that helps in sales enablement , marketing automation and customer service. The top reasons to choose Agile – Affordable , Next-generation , All-in-one CRM , Affordable and Next generation .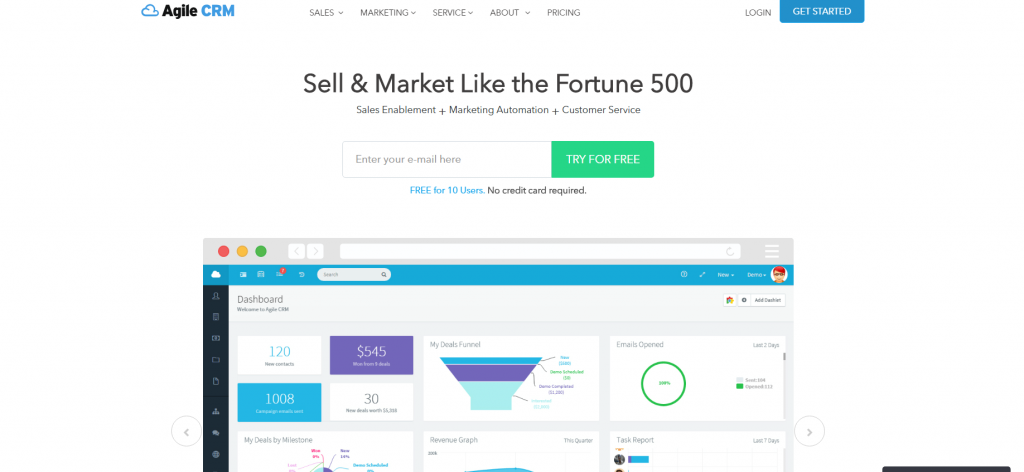 Tools
Features
Marketing Automation
Landing Page Builder
Social Suite
Email Marketing and Mobile marketing
Email Tracking
Pricing – The starting plan of small business cost $8.99
What Customers Love about it ?
Jez John says : " We have tried 6 CRMs in the past year and this is definitely the best ."
Drew Edwards says : " I chose Agile because of their value and incredible customer service."
5. Sendinblue
Sendinblue CRM tool helps in organizing teams and tracking customer interactions with your CRM. Sedinblue assists in a suit of marketing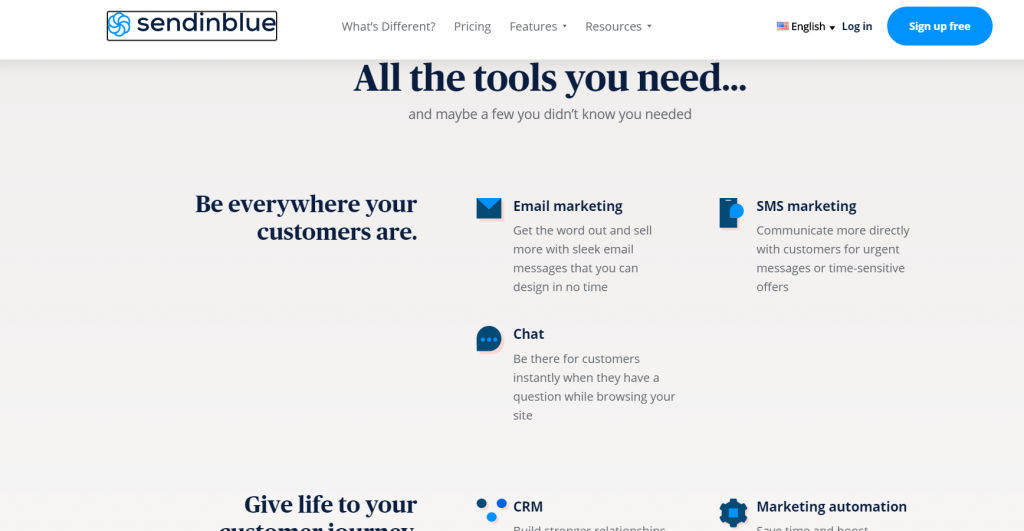 Tools
Features
Complete the Marketing strategy – Email Marketing , SMS Marketing and Chats.
Personalize the Customer Journey – Marketing Automation, Transaction Email and Segmentation.
Creating the Customer Equity – Landing pages , Signup Forms , Facebook Ads and Retargeting
Pricing – Free Plan with no annual payment and Lite Plan costing $25 per month.
What Customers Love about it ?
Founder @edwart chocolatier " As a simple team
6. Pipedrive
Pipedrive is the best sales tool to rely on and it is the cost effective approach to CRM revolution suited for all business enterprises . It is the #1 CRM software as per the Reviews' Data Quadrant 2018 and 2019. Pipedrive has exclusive insight reports catered for your business integrated with the mobile apps to monitor the performance from anywhere and at any point of time.

Tools – Small Business CRM, Real estate CRM , Google Apps CRM, Lead Tracking , Mobile CRM.
Features
Manage Leads and Deals – Helps in accumulating vibrating leads straight in the sales pipeline with chatbox and webforms.
Track Communications- The software helps in keeping in check the calls , emails and contact history exactly having full grip over the schedule.
Track Communications – It helps in keeping track of calls , emails and contact history exactly where you need the reference.
Privacy and Security – It helps in having full-fledged transparency to where your official business data is utilised defining the clear cut purpose.
Pricing – Essential Plan ( US $12.50) , Advanced ( US $ 24.90) , Professional Plan ( US $ 49.90) and Enterprise Plan ( US $ 99.00)
What Customers Love about it ?
Michael Liedtke ( Escrow.Com) – Engineering Manager – " Pipedrive mixes features and design that allows our team to streamline our operations . It was very easy to get up and running with Pipedrive."
Ryan Roberts ( Founder & CEO) Bustld , LLC – " As a long time user of SFDC and other CRMs , I like the simplicity and the intuitive nature of the softwares ."
7. Capsule CRM
The Capsule CRM is the smart simple virtual CRM. It helps in creating stronger customer relationships , making more sales and saving time. It makes CRM simple and informative . It nurtures relationships and keeps your data secured . It also helps in winning more sales and seeing the bigger picture .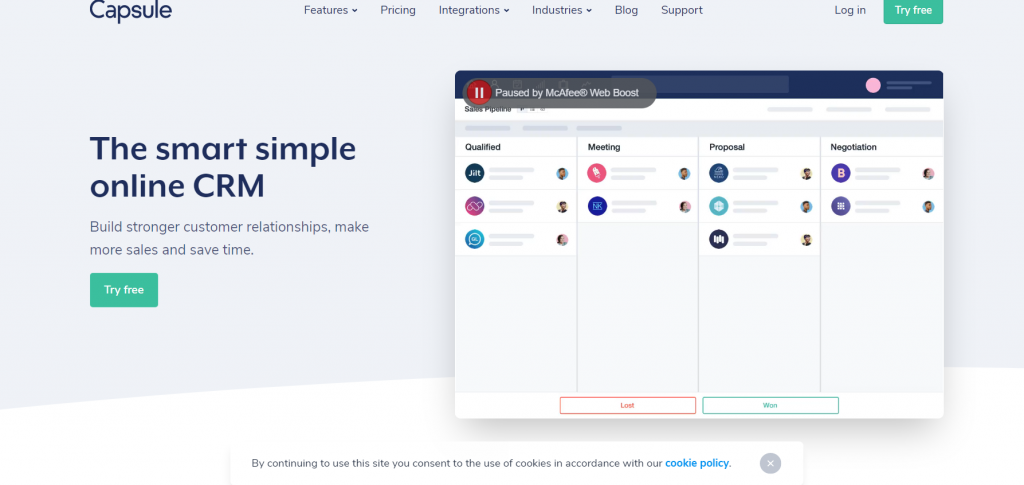 Tools – Contact Management , Tasks & Calendars , Sales Analytics , Sales Pipeline , Security & Permissions and Customization.
Features
Sales Tools – Pipeline dashboard , Opportunity filtering
Task Management – Repeating Tasks , Task automation, Task reminder emails , Calendar view
Reporting – Advanced Sales reports , Activity reporting , Advanced Sales reports , Export Reports , Google data studio
Pricing – Enterprise Plan – $72 per user per month ( annual payment) : Teams – $36/user per month ; Professional Plan – $18/ user per month.
What Customers Love about it ?
Dale Harris ( Hasbean) says : " We wish we had used Capsule years ago as we'd be much better off now."
8. Microsoft dynamics 365
Microsoft dynamics 365 has the cutting edge technology to swipe the right group of audience into your business. It has a suite of flexible services having customer insights and helps customers help themselves.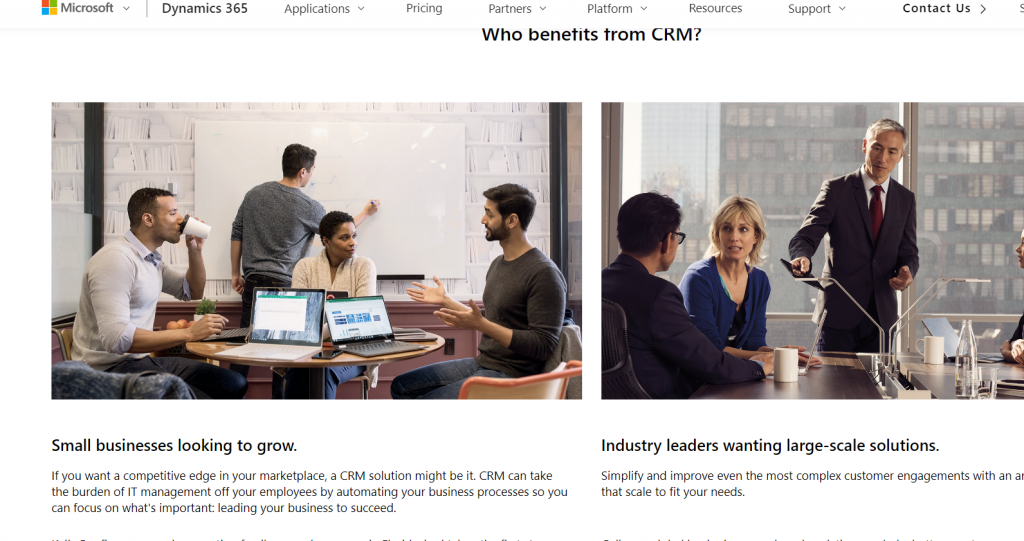 Tools – Sales , Customer Service, Field Service, Human resources , Finance, Marketing , Customer data platform , AI , Mixed reality .
Features
Sales Professional
Sales Enterprise
Sales Premium and Customer Insights
Microsoft relationship sales and Customer Voice
Operations and Commerce
Human Resources
Pricing – Marketing ( From Rs. 99,145 per tenant/month ) , Customer Insights ( Rs. 99,145 per tenant/month) , Sales Premium ( Rs. 8925 per user/month) , Operations ( Rs. 6280 per user/month , Commerce ( Rs. 8330 per user/month) .
What Customers Love about it ?
Peter Baker ( Emcor Group – Senior IT Director) – " Microsoft fully supports our commitment to security and data privacy as defined by internal and customer-driven requirements ..This was a major differentiator for us ."
9. Streak
The software that helps in keeping your pipeline moving .The streak software helps in setting up a perfect process for the team , no matter how you work. It has a CRM built into Gmail and schedules upcoming tasks across all the pipelines.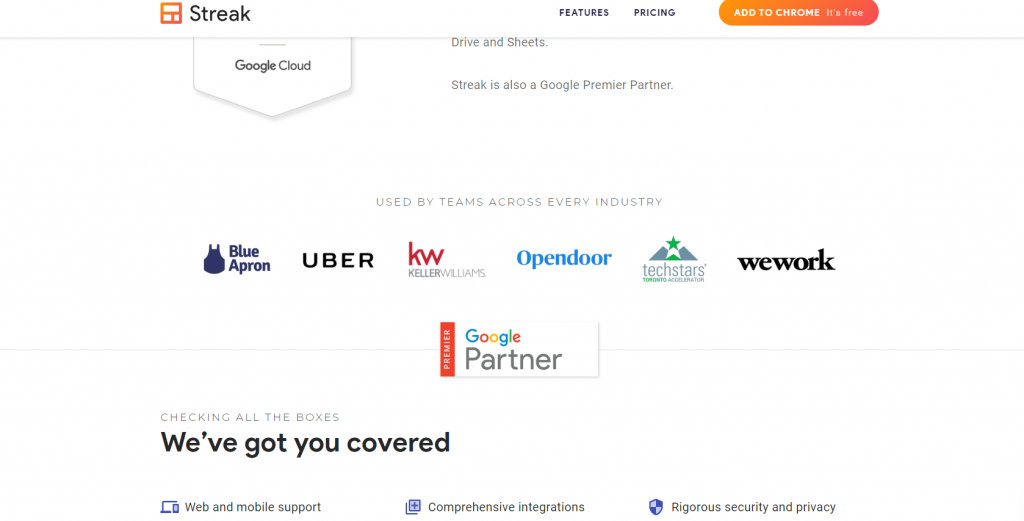 Tools – Sales , Project Management , Business Partners , Fundraising , Support , Hiring and Real estate
Features
Web and Mobile support
Comprehensive integrations
View Tracking
Inbox monitoring and Mail merge
Snippets
Pricing – Free Plan , Solo Plan ( $15 per user / month) , Pro Plan ( $ 49 per user / month ) , Enterprise Plan ( $129 per user / month)
What Customers Love about it ?
Shelby Black ( Freelance Journalist) says : " I use streak primarily for my hiring. It allows me to manage people in every stage of the process ."
Steven Llana ( Llano media LLC) says : " Streak is amazing. It helps me manage my leads and follow through each one."
10. FreshSales by FreshWorks
Freshsales CRM can help your team in many ways . It can utilise an AI based leading score , social media , activity insights and much more. It has built-in email and cell phone powered by Freshcaller.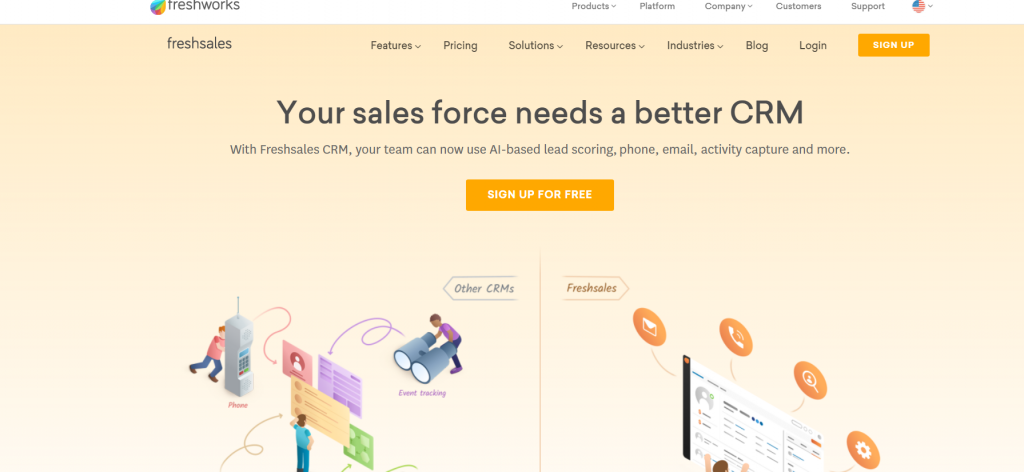 Tools – CRM software , Free CRM, CRM for startups , Excel to CRM, Sales Pipeline , Lead Generation ,Sales Process, Sales cycle and sales funnel.
Features
Focus on sales force automation to improve your team's productivity .
Make smarter decisions with Freddy AI – powered insights
Drive sales force to increase the revenue
The enterprise CRM platform for the escalated business.
Pricing – Blossom ( For startups – $12 per month) and Garden ( For Small Business – $ 25 per month)
What Customers Love about it ?
Germain Brion ( Chargebee) says : " When we explored Freshsales CRM , the first thing I remember saying is , okay, the interface is clean and simple."
Allison Sanka ( Planned Giving Marketing) says : " The bulk editing within the application is a huge time-saver for our campaigns."
ROUNDUP | 10 SMALL BUSINESS CRM TOOLS