In the last decade, the marketing world has undergone an enormous change. With technology impacting consumer decisions, buying has become far more complex than marketing and sales. This is why companies doing business online are now ramping up their marketing strategies to understand their website visitors' needs, activities, and demographics.
Website visitor tracking software is invaluable when it comes to understanding buyer intent. The website visitor tracking tools tell you who is engaging with your website, their geo-location, who referred them, what they are doing on your website, and time spent on each of your pages.
The tracking tools help you keep track of their click rates, bounce rates, and overall web traffic. If you are an entrepreneur or marketer wanting to improve your website's consumer experience and overall engagement rate, these tools customized to your needs are your holy grail.
Benefits of Website Visitor Tracking Software Tools
90% of entrepreneurs will choose Google Analytics as their marketing tool to monitor sales and analyze website visitor behavior. Even though Google Analytics is an exemplary tool, there's a slight disadvantage that can go a long way in disrupting your sales expectations. Google Analytics provides compiled data about your website operation and viewer count. It does not provide any insight whatsoever into the unique needs of every individual visitor. Instead, the data is clubbed together and takes away your opportunity to understand that every individual's engagement with your content is unique. 
On the other hand, website visitor tracking platforms give you a user-specific data-driven approach to visitor tracking. Here are some of the pros of the best website visitor tracking tools:
Visitor-level tracking tools offer you knowledge of individual consumer journeys.
Advanced tracking tools can also tell your buyers' geographic location.
User behavior tracking tools offer you a holistic view of where or on which page your customers spend the whale's amount of their time.
Reveals the source through which you get your leads.
Allows you to monitor your customer's actions, areas of interest, and click rates and provide content that is relevant only to them.
Alerts you when high-value leads to land on your website.
The 7 Best Website Visitor Tracking Software Tools: 2022
With these undeniably top-tier website visitor tracking tool benefits in mind, let us delve deeper into the expert-suggested best website visitor tracking tools you should use for better conversion rates.
1. Visitorqueue: Best Website Visitor Tracking Software Tool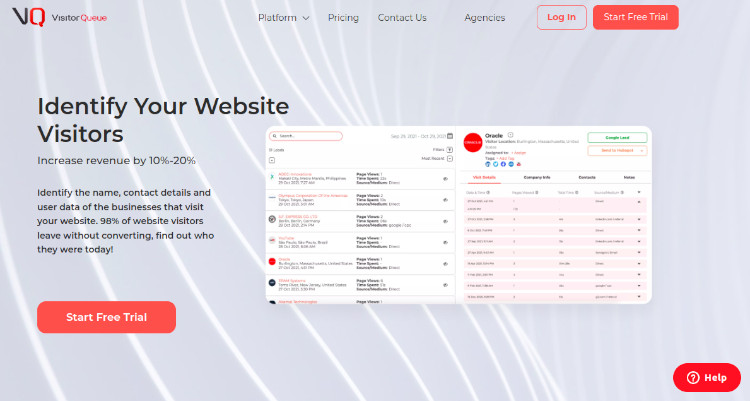 Visitor Queue is an innovative B2B website visitor identification software. Ranked as the best website visitor tracking software, Visitor Queue uses state-of-the-art technology to provide you information regarding your visitors' names, contact, and user data of the companies/ businesses visiting your website. Utilize the modern features of this best website visitor tracking software to boost up your marketing efforts.
Features:
With Visitor Queue, you can now track essential business contacts, their names, their position, departments, and the company's own social media accounts.
You can track company behavior, how they got to your website and their click rates.
Your team can reach out to the visitor businesses through the contact info available and convert them into clients.
This tracking software can significantly improve your website experience for consumers and potential clients.
Pros:
Visitor Queue is very simple to set up and navigate
Considering the facilities they provide, Visitor Queue is cost-effective
They also offer hourly updates about visitor companies
Information is stored about existing clients so that your team can follow up at a later time.
You can pay only for the number of leads you need. So, their program is unique and goal-oriented.
Pricing: $119 per month for 500 unique companies
2. Albacross: Best Website Visitor Tracking Software Tool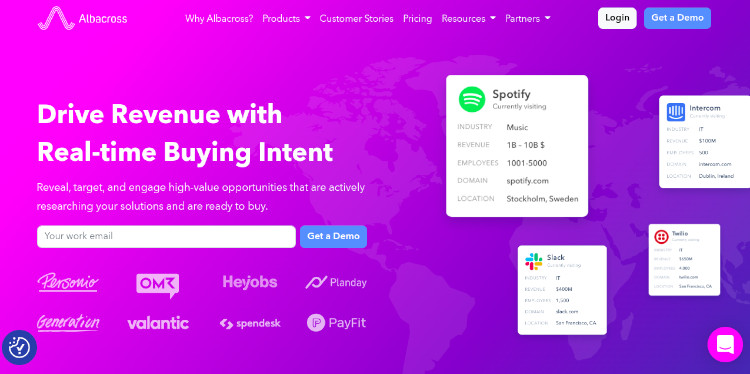 Maximise your conversion rates with this avant-garde website visitor tracking tool. Albacross helps you pinpoint your ideal clients by offering data tailored to your company's needs. Know your Ideal Customer Profile (ICP), their needs, and their location with Albacross' high-tech IP-to-company mapping database.
Features:
Albacross equips you with tools that show you the buyer's intent.
Albacross functions by capturing the IP address of your website visitors and comparing them with the more extensive database of company IP addresses and locates the visitors' geographic location.
Albacross offers custom filters that only show your target buyers and high-value companies.
The automated mail feature acts as a reporting tool that updates you regularly.
Pros:
Tracking tools can offer you thousands of leads if your site gets significant traffic. But how do you distinguish your ideal leads from other unnecessary ones? Albacross offers you just that. With their custom filter option, you can filter out buyers based on their revenue, location, source, employee position, and visited pages.
3. LeadFeeder: Best Website Visitor Tracking Software Tool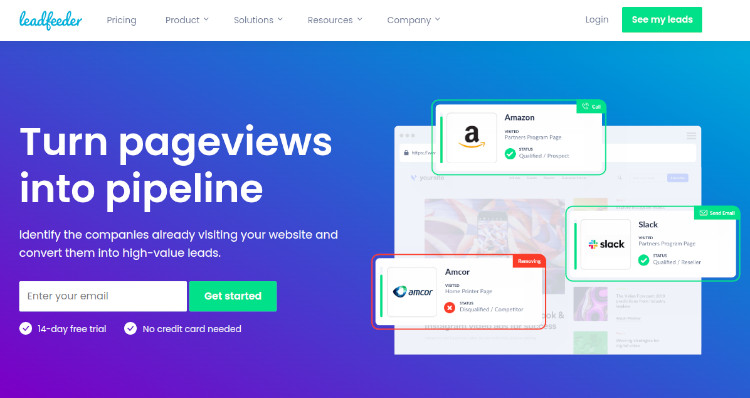 Instead of wasting your pennies on ineffective marketing maneuvers, tap into the benefits of the LeedFeeder website tracking tool that generates only the best leads that suit your marketing goals. Gain an increased client conversion rate with filtered leads free from useless traffic and bots.
Features:
With its focus on revealing buyer intent data, Leedfeeder works by identifying companies based on their IP addresses and turns remote website traffic into real company names.
Leedfeeder can also provide information about the visitor company's behavior on your website.
Identify and locate your visitors and pinpoint the content that interests them. Know your potential client's needs before even initiating a conversation with them. Anticipate your pitches beforehand!
Leedfeeder syncs and integrates website visitor information with your already present tool stack.
Pros:
Leedfeeder helps you identify visitors and churns out the high-value leads that will automatically focus your efforts on the right place.
Pricing:
4. Zoho SalesIQ: Best Website Visitor Tracking Software Tool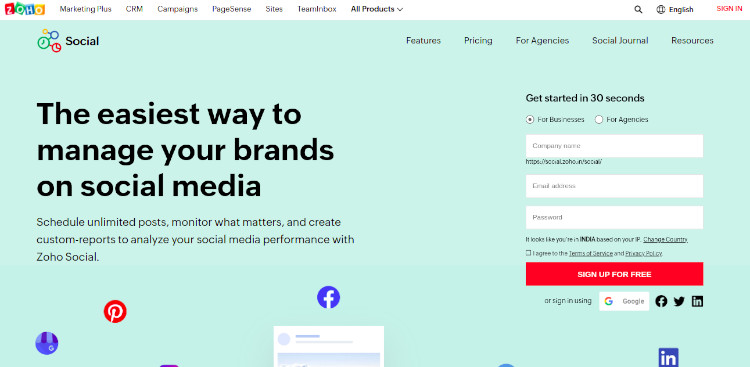 Zoho SalesIQ is a leading website visitor tracking software tool that increases your engagement with potential buyers by tracking their footprint on your company's online platform. This shapes your first interaction with your buyers and helps you move more clients through your sales funnel.
Features:
Provides you with a list of high-value hot leads, warm leads, and cold leads, dependent on your marketing goals.
Reveals the visitor's path of action, time spent on the website, geo-location, and much more for your marketing benefit.
Zoho SalesIQ dashboard also points out if your potential buyers are idle, busy, or available.
Alerts you with mobile notifications when returning or new customers land on your page.
Also offers integration with your CRM account that opens further doors for successful sales and conversion rates.
Pros:
Zoho SalesIQ tracking tool offers live visitor tracking, sorting website visitors into hot, warm, and cold leads. This makes the job of your sales team a whole lot easier when they approach only the interested buyers.
Provides a wide variety to view their data.
Pricing:
$9.41 monthly in the basic plus plan for professional use
$15.05 monthly in the professional plus plan for enterprises
5. Lead Forensics: Best Website Visitor Tracking Software Tool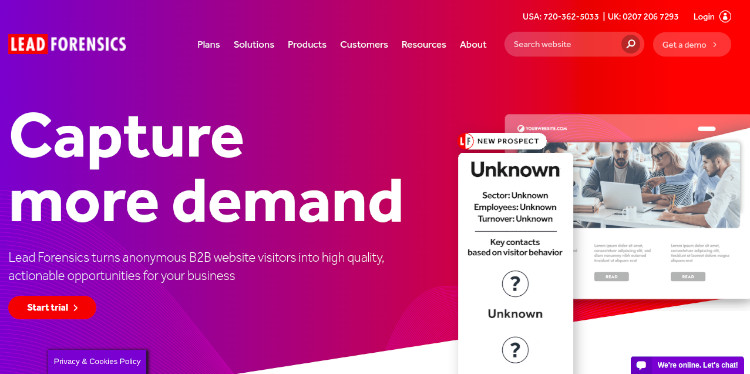 Know your anonymous website visitors' identities and needs, and map a better marketing campaign. Create more sales opportunities and expand your business using Lead Forensics website visitor tracking tools. You can now close deals at a faster pace with access to the more extensive database revealing IP addresses of your visitors' companies and their positions. With Lead Forensics, the operational efficiency of your team will be at an all-time high.
Features:
Get high-value intel on your website visitors and learn what your customers are interested in. This way, you can brush up on your strengths and strengthen your weaknesses in the marketing department.
Instant alerts to your website visitors while they are on your page.
Never miss a cross-sell chance with a clear understanding of brands and sub-brands visiting your website. Accelerate your conversion rates with this knowledge readily available at your fingertips.
Pros:
With Lead Forensics data import trait, you can upload your Ideal Customer Profile (ICP) data and get notified when these customer profiles visit your website. You can follow them with them instantly or at a later time.
Pricing: Depends on the amount of traffic your website generates. It is recommended that you go for the trial first.
6. ZoomInfo Sales OS: Best Website Visitor Tracking Software Tool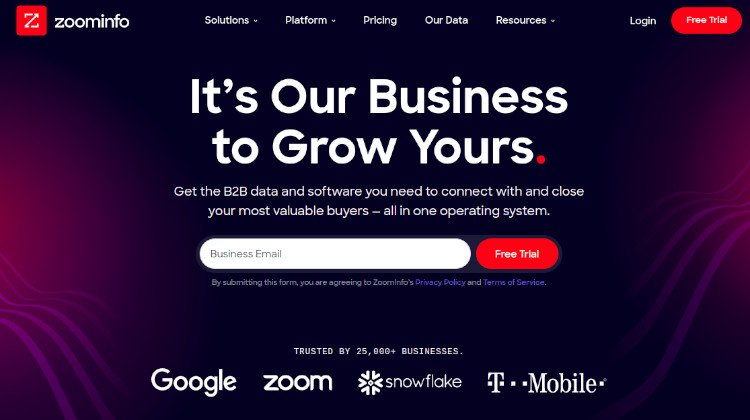 With ZoomInfo Sales OS, you finally have access to the right strategy and the correct data to fuel your business and exponentially grow your revenue. Identify and connect with your future clients efficiently with intelligent intel from ZoomInfo Sales OS. Target the proper customer accounts to reach your desired growth.
Features:
Provides accurate insights on the amount of traffic your website gets
Offers proper description, contact details, and behavioral traits of visitors on your webpage.
Identifies and places the best-fit buyers on a different stack.
Provides you automated services when you integrate your buyer contact and intent into your CRM, and marketing software. This increases the efficiency of your sales team.
Captures Sureshot buying signals from website visitors
Pros:
ZoomInfo Sales OS's buyer intent and contact data intelligence are top-notch.
The UI is easy to navigate and integrates with your CRM and sales software.
Companies have vouched for ZoomInfo Sales OS, claiming that using their service increased their engagement rate and decreased bounce rates.
Pricing:
7. Leadinfo: Best Website Visitor Tracking Software Tool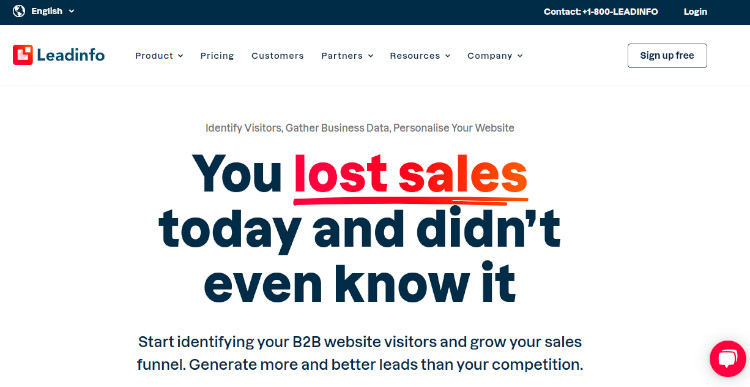 Note an incredible difference in the number of conversion rates and buyers passing through your sales funnel. Find what your buyers are looking for in your website and improve what you are offering as per the data. Let this website visitor tracking tool identify your potential buyers through their IP addresses and experience a surge in your sales.
Features:
Instead of scratching your head over statistical data, view your data in the email layout.
Receive hot leads and interact with them by accessing Leadinfo data.
Craft clever pop-up messages and alerts for customers that encourage them to keep in touch with your products
You can integrate this website visitor tool with 60+ marketing platforms.
Other than the contact details of your visitors, you can also filter out which other content about your buyer you want to know.
Know your visitor's actions on your website. Analyze their click rates and bounce rates.
Pros:
Leadinfo is convenient for companies who want to integrate this tool with their old marketing platform. Leadinfo allows such integrations for more than 60 sales platforms.
Pricing: You can calculate your price by counting the number of leads you want and the services you want to avail yourself of.
The Bottom Line
You will observe a rapid scaling up of sales and engagement rates once you start using website visitor tracking tools. The above-listed Website Visitor Tracking Software Tools will give you maximum results by churning out the hottest leads who are most likely to turn into your client. With the high data intelligence and easy-to-navigate UI, these tracking tools are the entrepreneur's weapon to ramp up his sales. Sell more by using these superb website visitor tracking platforms.