A platform is a company strategy that generates value by facilitating interactions between diverse parties, typically customers and providers. Through network effects, platforms build communities and markets that allow users to engage and transact. The move to digital and advanced technology in commerce has revolutionized the way we do business, providing endless resources and possibilities for business owners.
If you want to profit from this opportunity, you must consider how digital and technology might be used to promote items. As a result, online businesses are slowly but steadily displacing physical and mortar stores.
Brands work hard to make their first online stores a success, but the outcomes aren't always as expected. One of the silliest mistakes they made was partnering with the incorrect eCommerce platform.
An eCommerce platform is essentially an online retailer's backbone. An eCommerce is a type of software that will allow businesses to create, host, and manage online stores. The platform includes tools that enable businesses to create a branded online storefront where they can advertise and sell their goods and services. An ecommerce platform is needed to sell an item or a service over the internet.
An ecommerce platform with basic capabilities such as web hosting, shopping cart tools, and payment processing is the solution. Additional capabilities such as bulk upload or real-time stock inventory tools may be required depending on your budget, sales volume, or industry.
If you are choosing an ecommerce platform, make sure it matches your technical skills, including features that improve consumer experiences and allow for customization.
How to Choose the Best eCommerce Software Platforms?
Various systems, however, have different features. There are so many platforms out there with so many features and functions that it can be daunting.
Among the many options, keep in mind that an average eCommerce platform allows you to unify fundamental business operations for total visibility across your organization and, ultimately, to satisfy the most exacting clients.
It can be difficult to predict which eCommerce systems will provide the functionality you require while being cost-effective due to your store's scalability.
A few things to pay utmost attention to for users when finalizing an ecommerce platform for your business:
Run on a single, unified platform: On a cloud-based platform, an eCommerce platform should include a unified eCommerce, accounting, Point Of Sale, inventory, and order management, marketing, customer support, financial, and merchandising.
Provide a holistic perspective of the consumer: a strong eCommerce platform should provide consistent experiences, targeted marketing, and exceptional customer service. Across all touchpoints and channels, all customer interactions and transactions should be in a single perspective.
Create the aptest way for customers to purchase, fulfill, and return products with intelligent order management. To increase profitability, centralize order management. It's ideal to have a single view of inventory across all channels and units in your company's supply chain.
If you want to make your store stand out and live up to customers' expectations, choose a platform that offers responsive, welcoming, personalized, and rewarding mobile, web, and in-store experiences for customers.
Support endless expansion: on the same platforms, completely support numerous business models, brands, channels, locations, currencies, and languages.
Site security: if you're a first-time store owner, phrases like "PCI compliance" and "eCommerce SSL certificates" may be confusing. However, you will quickly become acquainted with them. To ensure the security of your store and the data it holds, choose a platform that has an SSL certificate and PCI compliance.
Easy to develop content: Look for platforms that make it simple to add material to new or current pages, as well as new pages and contact forms. Creating and publishing content on your store should be a breeze. Your store will suffer greatly in Google searches if it lacks good supporting content.
Support and documentation from a highly dedicated team: your platform provider should be able to assist you whenever you need it. Companies frequently provide help through a variety of channels, including email, live chat, ticket support, and direct phone calls. Select the one best for your business, and then contact your platform provider if you have any platform-related issues.
Best eCommerce Software Platforms for Small Business: 2022
Here is a comprehensive list of the best ecommerce software tools for small businesses.
1. Woocommerce: Best ecommerce WordPress Plugin for Small Business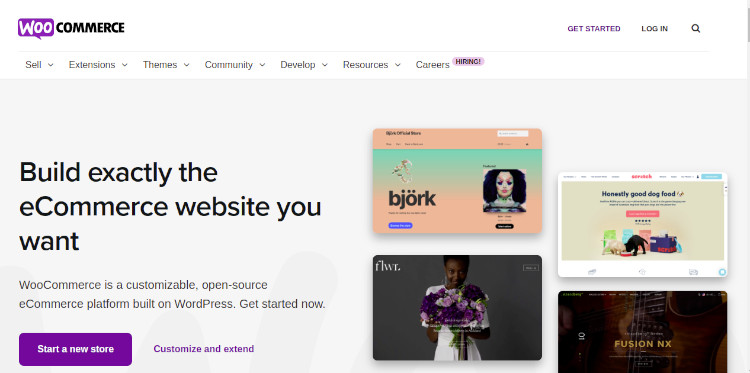 WooCommerce is an ecommerce software application that adds ecommerce features to your websites, such as accepting online payments, shipping options, product listings, and more. If in order to utilize it, you must already have a website. If you currently use WordPress, it's a wonderful choice.
Because WooCommerce is powered by WordPress, your online store's flexibility and capabilities are nearly endless. You will only need to add features that you intend to utilize, so you won't have to worry about your dashboard becoming cluttered.
Features:
Extensions for plugins to improve functionality
Developers can use Rest APIs to build their own platforms.
Tutorials and documentation abound.
140 payment gateways tailored to distinct regions
Subscriptions and deposits are supported.
Calculations of taxes that are done automatically
Rates for shipping in real-time
Apps for iOS and Android
Product capability, both physical and digital
Countless product variants
Support forum for the general public
Pricing: It is free to download, install and use, but you need to pay for the plugins that you will use on your website.
Pro Tip: If you're already familiar with the WordPress platform, WooCommerce will be a breeze. All that requires to be done is installation, add your own products, and tweak the settings.
2. Shopify: Best ecommerce Store for Small Business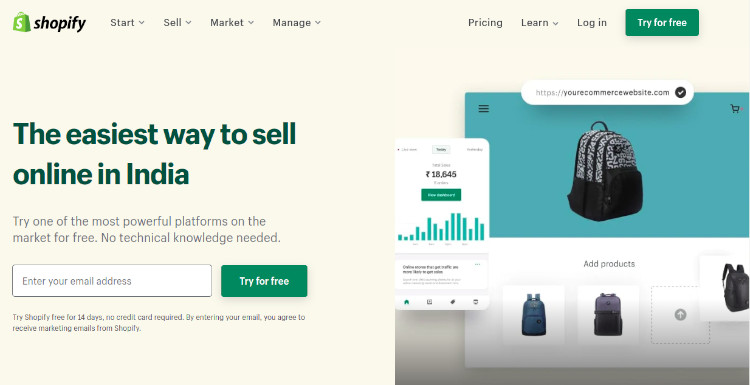 Shopify is an ecommerce platform for startups with over one million active stores, making it one of the most popular options on this list. It is not, however, as customizable as Wix. However, because it was created expressly to run online stores, it has more complex ecommerce functionality. It's also simple to use, with just the right amount of flexibility.
It's also very adaptable, able to power small to huge businesses and anything in between. Shopify is also quite adaptable. It's used by both small organizations and major corporations. Kylie Jenner built her billion-dollar empire selling Kylie Cosmetics lip kits via Shopify. However, it might also be used as a small business.
Shopify's award-winning 24/7 support is another standout feature, which you'll have access to even when you sign up for a Shopify account. With Shopify POS, you can sell products from your online store, as well as through social media platforms, online marketplaces, and in-person.
Features:
For traditional stores, there is a point of sale.
Rates for shipment from different carriers in real-time
Recovering abandoned checkouts
There are over 100 different payment gateways available.
Taxes are calculated automatically.
Accounts and profiles of customers
Centers for fulfillment
Inventory control that is advanced
Products are limitless.
In-depth research
Pricing: Shopify has five different options for different types of enterprises, including:
$9 per month for Shopify Lite
Shopify Basic – $29 per month
Shopify costs $79 a month.
$299 per month for advanced Shopify
Custom pricing using Shopify Plus
Pro Tip: Shopify Lite is a perfect choice if you want to add products and "purchase" buttons to an existing website. It does not, however, provide an all-in-one website builder.
3. 3Dcart: Best Shopping Cart Software for Small Business
3dcart's mobile-responsive platform and sophisticated SEO capabilities ensure that your website meets the needs of search engines and online customers. It is one of the best ecommerce software for small business.
To design a website that handles every online sale with simplicity, you don't need to learn any coding or have any unique computer abilities. This feature-rich platform and mobile app allow you to manage all aspects of your business, right from inventory to marketing, from anywhere with an internet connection, making it the obvious choice for online-only businesses.
Features:
There are 61 free themes available.
Data on shipment in real-time
Creating and printing shipping labels is possible.
Sell both digital and physical products.
There are over 60 real-time reports available.
Tools for on-site evaluation
Solution for reclaiming abandoned carts
Email marketing and automation software that is comprehensive
Google Accelerated Mobile Pages (AMP) for products
For SEO navigation, use breadcrumb links.
Site maps are within your control.
Options for customizing your shopping cart
There are several shipping options available, including split-address orders.
Options for selling through multiple channels, including a Facebook store
Pricing: There are five subscription levels to choose from, and prepaying for a year saves you 10%. If your 12-month sales volume exceeds the maximum for your package, 3dcart will automatically upgrade your account. Choose from the following options:
$19 for the first $50,000 in sales
Basic: $29 for sales up to $100,000.
Plus, if you sell up to $250,000, you'll just pay $79!
Power: $129 for sales of up to $500,000
Pro: $229 for sales of up to $1,000,000
Pro Tip: 3dcart offers a comprehensive knowledge base and ecommerce academy, which includes classes, webinars, and videos. You can connect with them through online chat or a help ticket if you have the Startup plan. All other programs include phone help that is available 24 hours a day, seven days a week.
4. BigCommerce: Best eCommerce Platforms for Small Business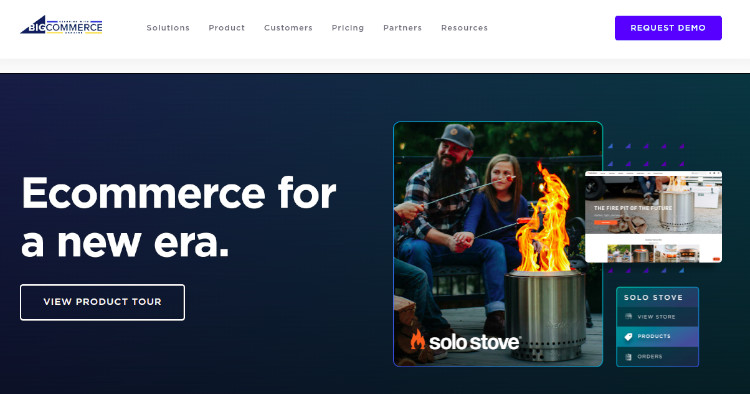 BigCommerce is an all-in-one ecommerce platform designed for large online stores. It comes with more complex ecommerce features that are designed to handle enormous volumes and a large number of products. They're a lesser participant in the sector, with a customer base of 100,000+ outlets that include huge brands like Ben & Jerry's and SkullCandy.
BigCommerce gives a unique set of eCommerce solutions with a wide range of features and possibilities. It allows your business to integrate with the majority of the essential eCommerce systems right out of the box. This platform can be used by businesses that serve both B2B and B2C consumers because it makes it easier to build multiple pricing lists or catalogs for different customer groups.
Features:
For speedier checkouts, customers can create accounts.
Checkout that is mobile-friendly
Recovering abandoned carts
Akamai and Google AMP
Filters for advanced products
Coupons and promotional codes
Inventory control that is advanced
For tailored shopping, create customer groups.
There are over 65 payment gateways with no additional transaction costs.
Integrated shipping management
Pricing: BigCommerce has four paid plans (each with a 15-day free trial) to choose from:
Standard — $29.95 per month with a sales cap of $50,000 per year
Plus, it's only $79.95 per month with a $180,000 yearly sales cap.
Pro — $299.95 per month with a sales cap of $400,000 per year
Customized pricing for businesses
Pro Tip: BigCommerce is overkill for your online store if you're just getting started. However, if you're a well-established company or want to sell in large quantities, it's a great option.
5. Wix: Best ecommerce Website Builder for Small Business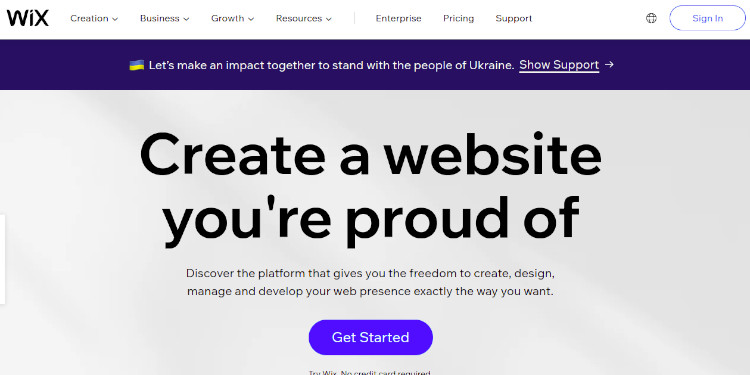 If you're looking for a cost-effective and adaptable ecommerce platform, Wix is a wonderful choice. It's known for its drag-and-drop interface, which allows for a lot of creative freedom. You may use the visual building tools to get your site appearing exactly how you want it without having to write code.
Wix also gives you access to over 500 website templates that are ready to use right away and offer plenty of customization choices. The Wix template library is quite useful when starting a new online store. Instead of fiddling with settings, you can just plug your products into a framework that will always look fantastic.
You can make adjustments and manage your store from anywhere in the world, thanks to their comprehensive mobile app. Wix also has a number of marketing tools, such as email accounts and the ability to submit Facebook advertising and social network postings directly from your account dashboard. Additionally, you can even sell your products directly through social media.
Features:
More than 90 languages and local currencies are supported.
250+ apps to enhance your site's functionality with no added transaction expenses
Pages dedicated to specific products
Taxes and shipping worldwide
Discounts and coupons
Advanced filtering and sorting
Collections of products
Checkout that can be customized
Payments made on a regular basis
Pricing:
Wix offers four ecommerce plans for different-sized web stores, including:
Basic Business – $23 per month
$27/month for Business Unlimited
$49/month for Business VIP
Customized pricing for businesses
Pro Tip: You may drag and drop pieces to construct the website you desire, including stunning videos and functions. They have over 500 themes, with 72 of them being free. Except if you utilized their ADI, you're stuck with whatever theme you choose at the moment of publishing your site.
6. PrestaShop: Free ecommerce Software Platforms for Small Business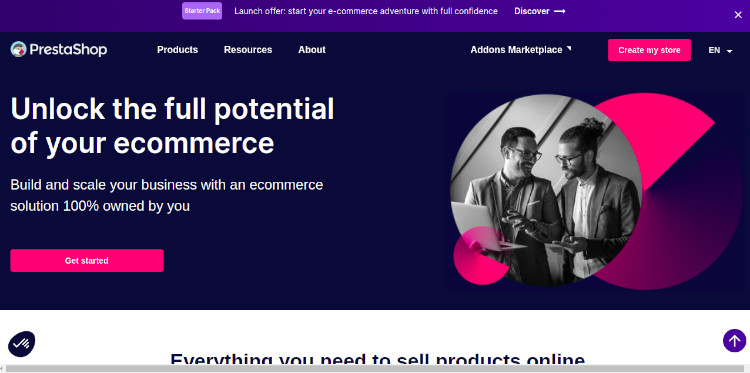 PrestaShop development is an open-source eCommerce platform that allows for a lot of customization. It is one of the best free ecommerce software for small businesses. In 2007, Bruno Leveque and Igor Schlumberger built the software, which is based mostly on the PHP Smarty Template engine. It boasts a community of over 500,000 people and over 3 million downloads. It is accessible in over 56 languages and is widely used in more than 150 countries.
PrestaShop includes a content management system, website builder, and marketing tools. Hosting, on the other hand, is not covered. Support is almost non-existent, but because it's open-source software, you might be able to get assistance from the community.
Features:
With a powerful collection of integrations, Quick Install features are easy to use.
Configuration and partnerships for shipping, mobile commerce, SEO, and a user-friendly interface
eCommerce Analytics and Designer Guide
More than 50 top-notch payment solutions are included in this powerful store builder.
Web agencies for PrestaShop and themes that can be customized
Tax Rules that can be customized and a factor in the international eCommerce market
Pricing: Although PrestaShop is free, you will have to pay for hosting, a domain name, and professional templates. You'll wind up with a website that looks amateurish if you don't have any of these.
7. Shift4Shop: Fee eCommerce Shopping Cart Platforms for Small Business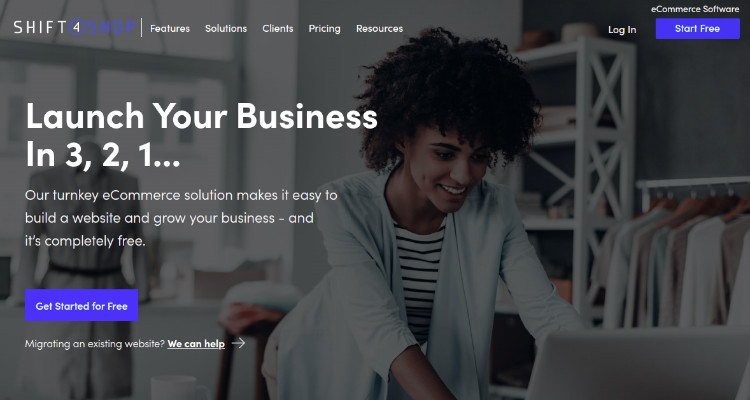 Inventory control, business management, and customer-focused tools are just a few of the capabilities available at Shift4Shop. These capabilities make it simple to communicate with customers, develop and manage online storefronts, and keep track of all inventory. It is one of the best free ecommerce tools for small business.
Many features save money for the company by obviating the need for additional expenses that would otherwise be incurred if the company used a different eCommerce platform.
Features:
There are no transaction fees, and domain registration is free.
Unlimited Orders, a Secure Shopping Cart, and an Online Store Content Management System (CMS)
Staff User Accounts with Permissions, Unlimited Products with Unlimited Bandwidth, Bulk Data Import/Export, and Unlimited Products with Unlimited Bandwidth
Secure web Hosting with 2-Factor Authentication
Customer Store Accounts with Guest Checkout GDPR Compliance Toolkit and Dozens of Mobile-Ready Themes Customer Store Accounts with Guest Checkout GDPR Compliance Toolkit and Dozens of Mobile-Ready Themes
Pricing:
Free for life ($0, US-Only) end-to-end eCommerce
$29/month (basic)
Plus, it's only $79 each month.
$229.99 per month (pro)
Pro Tip: Customers can pick from hundreds of professionally designed, industry-specific templates that are all mobile-friendly, SEO-optimized, and highly configurable.
8. Squarespace: Best eCommerce Software Platforms for Small Business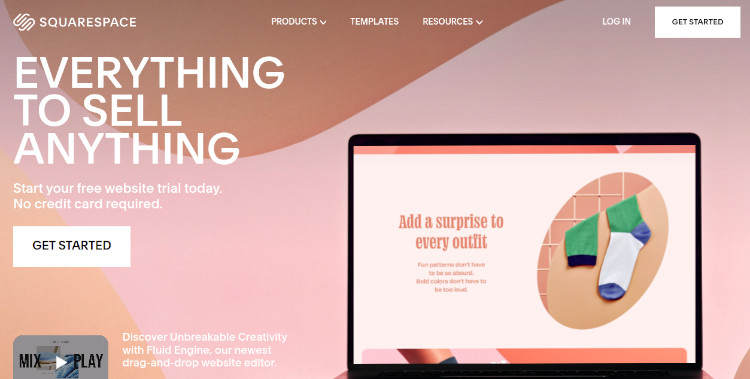 Squarespace is most known for its free website builder, but they also offer three compelling ecommerce options. You'll get the same high-quality designs that Squarespace is known for, plus plenty of customization options to give your consumers a really unique shopping experience.
Some of the other simple-to-use systems are quite limited in their capabilities. You have a lot more artistic freedom with Squarespace. Install and tweak a few different templates to discover which one you prefer. You can choose between different templates.
Squarespace works with the majority of popular email marketing and social media platforms, allowing you to sell and market your items like a pro. They also have outstanding customer service available 24 hours a day, 7 days a week, to answer your concerns and assist you in getting everything set up the way you want it.
Features:
Subscriptions, digital products, and in-person compatibility are all things to consider.
Tax tools built-in for automatic tax computations
Gift cards and discount codes
Recovering abandoned carts
Checkout that is mobile-friendly
Management of a mobile store
Product lists are extensive.
The ability to view information quickly
Inventory control is important.
Estimates for shipping in real-time
Pricing: Squarespace has three ecommerce plans to choose from:
$18 per month + 3% transaction fees for businesses
Basic commerce is $26 per month plus 0% transaction fees.
Advanced Commerce is $40 per month, plus there are no transaction fees.
You'll notice a Personal plan for $12 per month when you look through their pricing alternatives. This is wonderful for building a website, but it doesn't have any ecommerce features; therefore, it won't work if you want to start an online store.
A business plan is also available, including a dedicated account manager, SEO consulting, and priority technical support.
Pro Tip: ShipStation is integrated with Squarespace, and you can install Printul and ShipBob from the app section. Shipping charges from major providers (UPS, FedEx, USPS) can also be calculated in real-time.
9. Instagram Shopping: Free Social Commerce Software for Small Business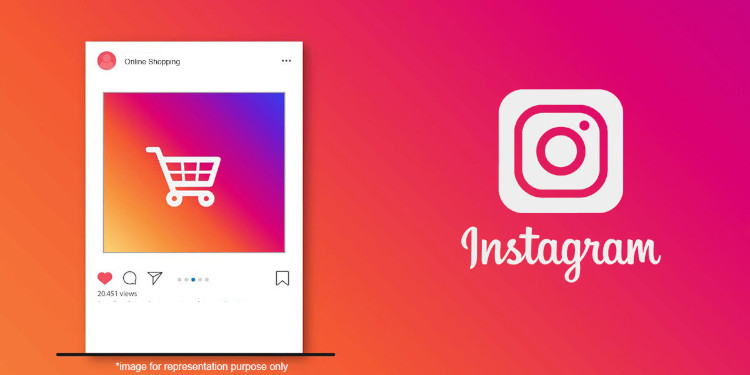 Instagram shopping posts, in a nutshell, make it easier for consumers to shop on the site. Businesses and creators can immediately tag products in their postings, resulting in a smooth shopping experience. Users can also buy things directly on Instagram using Instagram Checkout (which is still rolling out globally).
Every month, 130 million individuals tap on an Instagram shopping post, demonstrating how popular social buying has become. Instagram shopping pictures are a terrific method to showcase your catalog and increase purchases for businesses. It offers up a world of possibilities for creators and influencers to promote products from brands they work with. With this in mind, it's time to get your Instagram profile ready for shopping!
You'll be converting followers into customers in no time by tagging products in your pictures and building an Instagram Shop.
Features: The new Drops location simply gathers all of the product launches in one spot to make browsing and shopping easier. Instagram claims to be selecting this section's featured drops. To be eligible, brands must use the product launch option on Checkout with Instagram, which is available to businesses.
Pricing: It is free for businesses to use.
Pro Tip: Furthermore, the brand's Live shopping can be timed to coincide with their product launch. There is an on-screen countdown and confetti animation when the brand goes live for a drop.
10. Opencart: Free ecommerce Software for Small Business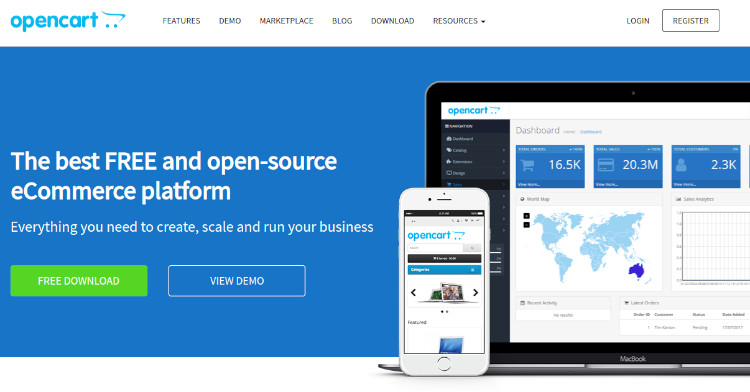 The OpenCart ecommerce platform comes with everything you'll need to start and run your own online store. OpenCart is used by more than 342,000 ecommerce websites around the world.
OpenCart is a shopping cart, not a website builder. It's open-source software that you may put on your existing website to add ecommerce functionality. OpenCart's marketplace is another significant benefit. There are almost 13,000 modules, themes, and extensions available. So, if you're looking for something to integrate with your ecommerce business, there's a strong chance it'll be accessible on the OpenCart marketplace.
Features:
Unlimited categories you can create.
Unlimited things and makers are here.
Offer digital things for sale.
Support for multiple currencies is available.
Multilingual.
Product evaluations and ratings.
System designs include templates.
More than 20 payment gateways.
More than eight different shipping options.
PCI standard compliant.
Slabs of different tax rates.
Weight and size calculator for shipping.
Discount coupons available
Recovery and data backup tools.
Invoice printing facility.
Sales report.
Pricing: It's completely free to download and set up on your website. There are no monthly or annual costs associated with using this program. You'll have to pay for specialist technical assistance from OpenCart. The cost of a one-time remedy is $99, or $99 per month for enhanced ongoing service.
Pro Tip: The OpenCart community forum has more than 110,000 registered individuals who can support you if you need it. You can look through the 550,000+ entries to check whether your question has previously been answered.
Roundup: The Bottom Line
The features and costs offered by different eCommerce systems vary. Whatever path you take while creating your website, keep the following criteria in mind:
The platform you select must allow you to keep your website updated and managed at all times.
Select a reputable web hosting service.
Payment processors and shopping carts that are simple and easy to use.
It's beneficial to customer service and the user experience.
The safety of the website and the data of your customers is important.
You should carefully carry out the first setup of your website, paying specific attention to the basis.
We sincerely hope that this post helps you in selecting the finest eCommerce platform for your company.