Inventory is undoubtedly a company's most valuable asset; it's the supplies, work-in-progress goods, and finished goods that businesses sell to earn money. There is no business without inventory. However, maintaining track of inventory is just as vital as buying it for running a successful and profitable firm; poor inventory management is one of the top reasons for small business failure.
An inventory management system can be defined as a method of tracking items across your whole supply chain, from purchase to production to final sales. These all factors add up to how the inventory gets handled by you.
How to Choose the Best Inventory Management Software Tools?
Inventory management software can cost anywhere from $100 to $3,000 per month or a few thousand dollars for a one-time license. The size of your company, the number of orders you receive, and the number of sites you operate are all essential considerations.
Best Inventory Management Software Tools for Small Business: 2022
Here's a sneak peek of the best inventory management software that you can consider for your business this 2021:
1. NetSuite: Best Inventory Management Software for Small Business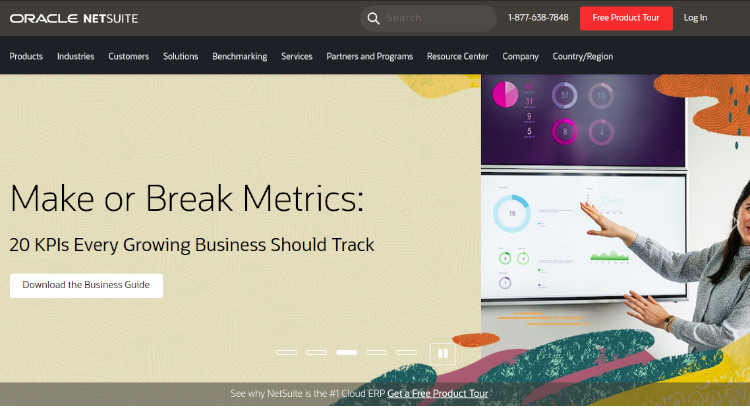 NetSuite is an all-in-one enterprise resource planning (ERP) system. It assists businesses in achieving company growth and success via the efficient optimization of business operations. It also aids in the automation of corporate processes and activities in a cloud platform with superior features.
In the ERP world, NetSuite is a relative newcomer. Evan Goldberg first presented it in 1998 under the moniker Netledger. It started as web-hosted accounting software to meet the following requirements: effective management of firm money, other activities, and customer interactions and satisfaction.
In a cloud environment, it meets the needs of small, medium-sized, and large organizations. Oracle later bought NetSuite and nurtured its growth from a small business suite to a powerful ERP system that can be used in a variety of ways to improve business operations.
Features:
Better resource organization
Better communication
Better customer service
Daily task automation
Effective team management
Analytical data and reporting
Pricing: It starts from $499 per month on a subscription basis.
Pro Tip: Cloud maturity – Simple to use – Low bandwidth – SMB-friendly features – Single user access to numerous NetSuite instances – Multi-roles make it easier to manage staff in a multi-show business.
2. Zoho Inventory: Best Inventory Management Software for Small Business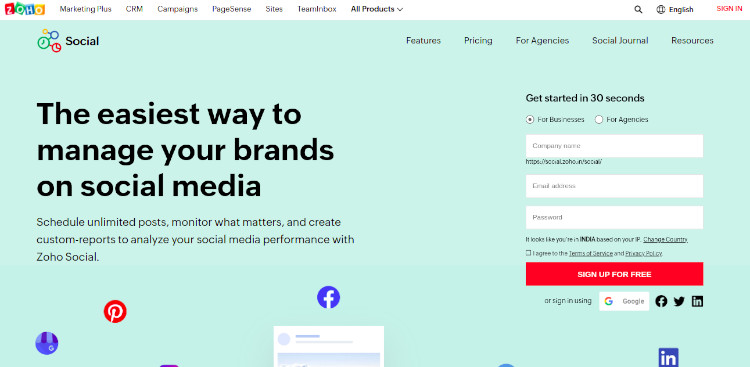 Zoho Inventory is a cloud-based inventory management system that enables businesses to create, manage, and track sales and purchase orders, as well as inventory. Item and order administration, inventory control, warehouse management, multi-channel selling, and more features are available. The platform integrates with Amazon, eBay, and Etsy, as well as shipping tracking solutions like AfterShip and DPD, shopping carts like Shopify, and other Zoho products, including Zoho Books accounting software Zoho Analytics, and Zoho CRM.
Users can manage contacts, real-time access data, follow sales orders, manage various warehouses, check invoices and payments, and more while on the move with the Zoho Inventory mobile app for Android and iOS smartphones. Because of Zoho Inventory's automatic amount adjustment capability, businesses can instantly change their inventory quantities across all selling channels whenever a transaction is made. Businesses may keep track of stock levels, and the system can reorder stock when it reaches a set threshold.
The software automates the entire sales process, including sales order creation, creating shipping labels, shipping products, tracking delivery status, and sending invoices to clients. Businesses may use Zoho Inventory's full dashboard feature to generate reports that give them rapid access to business indicators, including inventory levels, order fulfillment rates, product sales, purchase order history, and more. With sales data, users can identify which products are best-sellers and learn more about loyal consumers and their payment history.
Features:
Inventory Management
Order Fulfillment Order Management
Avoiding Stock-Outs with Delivery Tracking Inventory Replenishment
Ordering is simple.
Diverse Import/Export Data Channels of Distribution
End-to-End Tracking
Invoicing and billing
Apps with an Open API Management of Integration Applications
Shipping Labels That Can Be Customized
Inventory Software Management
Sales Analysis and Reporting
Mobile Access to Sales Analytics
Pricing:
A 14-day free trial is available. For up to 50 orders and 50 shipments per month, a free version is available.
Standard: $59 per month per organization, invoiced annually. Each month, there are 1500 orders and 1500 shipments.
Professional: $99 per month per organization, payable annually. Each month, there are 7500 orders and 7500 shipments.
Premium: $159 per month per organization, invoiced annually. Each month, there are 15000 orders and 15000 shipments.
Elite: $239 per month per organization, payable annually. Per month, you can place an infinite number of orders and receive an unlimited number of shipments.
Larger subscription packages can be quoted upon request.
Non-profit organizations are eligible for discounts.
Pro Tip: The software is built to work in tandem with other Zoho products, as well as critical external systems, online shopping platforms, and shipping companies. The technology can be obtained for a fraction of the cost of complex online inventory management, depending on the demands of a particular organization.
3. ERPAG: Best Inventory Management Software for Small Business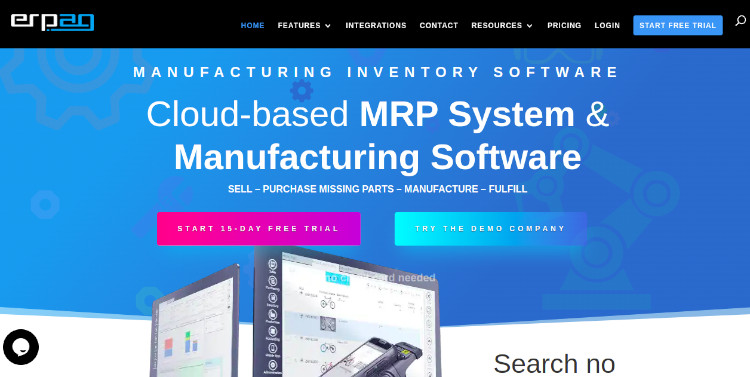 ERPAG is an enterprise resource planning (ERP) application that runs in the cloud. It is appropriate for small to medium-sized firms in a variety of industries, including automotive, retail, education, information technology, and others. Sales management, purchasing, manufacturing management, accounting and finance, inventory management, reporting, and analytics are all important components.
It is one of the best inventory management software for small businesses. Users can use ERPAG to handle business processes such as selling, ordering, receiving, and delivering goods. Payroll, service management, shipping management, user-access management, point of sale, and barcode scanning are among the other capabilities.
ERPAG supports Google Mail, Google Calendar, Google Drive, Microsoft, Magento, WooCommerce, Shopify, QuickBooks, Square, Stripe, and more services. It works with more than 40 shippers throughout the world, including UPS, FedEx, and USPS.
It is available in three subscription editions: Basic, Standard, and Premium. It runs on Windows, Mac OS X, and Linux operating systems. Support is available via email, phone, and video tutorials.
Features:
Notifications/Alerts from Accounting Integration
Inventory Control
Cataloging/Categorization of Barcode/RFID Bills of Material
Check-in/Check-out
Tracking Your Budget
Management of CRM Distribution
Controlling Documents
ERP Financial Management Forecasting
Pricing: A free 15-day trial is available. Simple, clear pricing: $ 25 per month per user!
Pro Tip: ERPAG also provides users with a customizable dashboard and account management software. With this incredible ERP software, you can manage purchasing, CRM, finance, stock, supply chain, and warehouse.
4. QuickBooks Inventory Management: Best Inventory Management Software for Small Business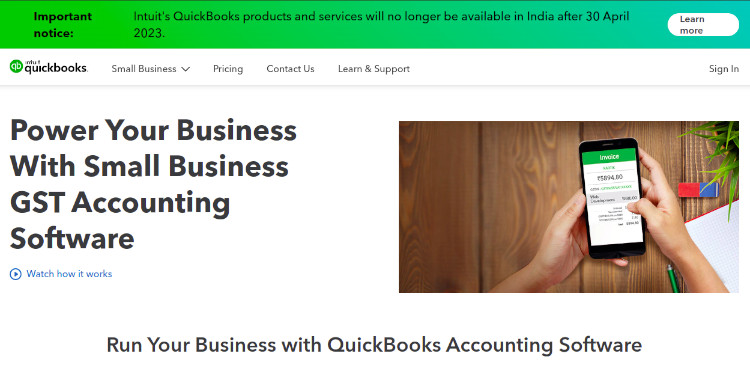 One of the most widely utilized accounting programs among small business owners is QuickBooks. If you're already a QuickBooks user, you might be wondering if they provide an inventory management solution as well. After all, accounting and inventory are so closely linked that having a single tool to manage them both seems like a no-brainer.
QuickBooks Online does provide complete inventory management and tracking plan. With QuickBooks Commerce's additional services, you can reliably cover the majority of your business with just one service.
Features:
Cloud Accounting
Invoicing
Accounting reports
Online banking
Multiple users
Free unlimited support
Accounting reports
Cash flow management
Time tracking
Pricing: The plan starts from $$317 per month for small businesses along with a free trial.
Pro Tip: You can also send custom invoices and quotes using this software.
5. TYASuite: Best Inventory Management Software for Small Business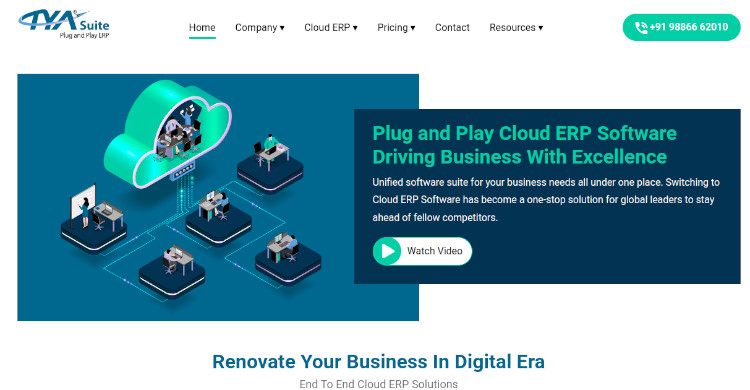 TYASuite Manufacturing ERP is a user-friendly solution for planning, coordinating, and tracking your manufacturing process. It is one of the best inventory management platforms for small businesses.
From order development to order fulfillment, we can assist you in streamlining your production procedures and making them more cost-effective. With its unified and seamless approach, TYASuite, a comprehensive production management software package, is now available as a cloud-based solution. Finally, there's a whole production management software suite that can be accessed from anywhere.
Features:
Accounting Integration
Agile Methodologies
Aging Tracking
Alerts/Notifications
Approval Process Control
Approval Workflow
Archiving & Retention
Asset Accounting
Asset Management
Auction Management
Audit Management
Audit Trail
Backorder Management
Barcoding/RFID
Pricing: The plan starts from INR 1,250 a month to INR 1,750 a month.
Pro Tip: TYASuite's Plug and Play Cloud ERP may cut ERP implementation time in half, from months to days. Cost reductions of more than 75%.
6. PartsPal: Best Inventory Management Software for Small Business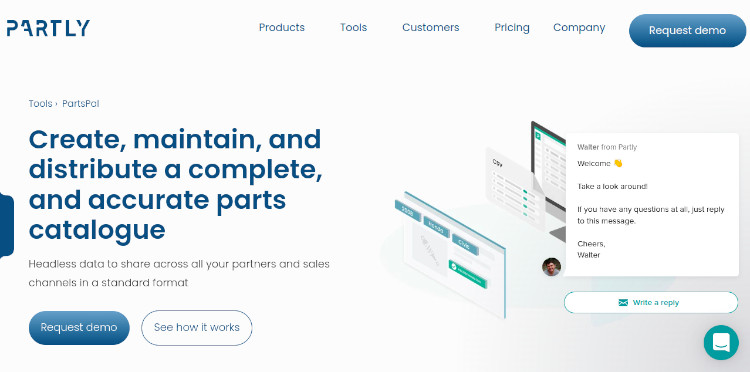 PartsPal is a cloud-based inventory management software for auto parts companies that helps them manage vehicle fitting and sell products through various eCommerce channels. OEM/aftermarket fitment database, YMM search integration, sales channel integration, CSV/quick-list upload, and other features are available.
PartsPal receives fitment data from clients' data feeds, integrates with GAPC/UVDB (Universal Vehicle Database), and allows companies to upload their proprietary data. The fitting is then automatically matched to products, and the entire product is pushed to various sales channels.
Sellers can also publish details of automobile components and manufacturers, as well as current stock levels and price, to PartsPal. By syncing order data from sales channels and collecting shipping quotations from providers depending on the goods' order weight or dimensions, it will automatically update stock levels.
PartsPal works with a variety of eCommerce platforms, including eBay, Shopify, Amazon, and others. The sales history report allows sellers to keep track of orders, including the purchase date, customer name, invoice number, and payment status. Supervisors can also keep track of several yards, shipments, and shipping choices from different locations.
Features:
Reporting
Analytics
Search Filter
Third-party integrations
Inventory management
Data import/export
API
Mobile Access
Alerts/Notifications
Pricing:
For new users, PartsPal offers a 7-day free trial, after which the software is accessible in three pricing categories. The pricing and features are listed below.
PartsPal costs $199 a month and allows you to sell up to 200 orders.
Sell up to 600 orders for $499 every month.
Sell up to 1,500 orders per month for $899 per month.
Pro Tip: Auto component wholesalers, dealerships, and manufacturers, as well as parts marketplaces, are the best candidates.
7. Industry Cloud for Consumer Goods: Best Inventory Management Software for Small Business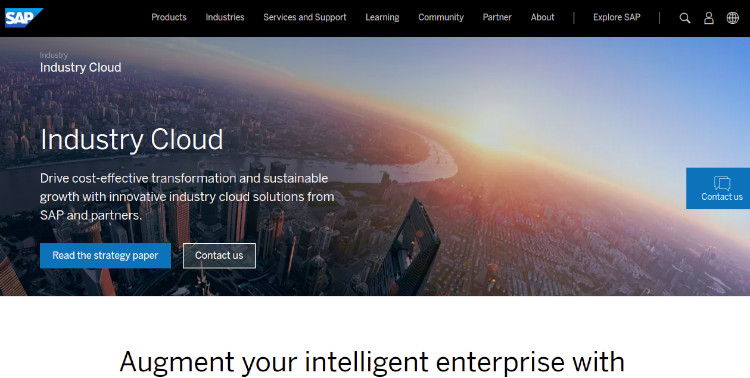 Industry Cloud for Consumer Goods is a centralized sales force automation platform that allows organizations to manage sales orders, perform surveys, track promotional campaigns, and optimize routes, among other things. Supervisors can set up automated workflows based on conditional logic to manage sales operations and track KPIs across items, brands, and locations.
Staff members can use Industry Cloud for Consumer Goods to organize visits, generate invoices, manage in-store merchandising, and more from a single platform. It allows field staff to track stock utilization and manage inventory replenishment procedures using mobile devices. It also enables team members to use time stamping and location tracking tools to optimize routes and track delivery.
Managers may set up role-based access privileges and use the built-in dashboard to obtain insights into sales operations, staff productivity, promotions, and other vital indicators using Industry Cloud for Consumer Goods. Employees can use the distributor management feature to record sales transactions, anticipate inventory levels, and manage credit.
Features:
Alerts/Notifications
Call Management
Campaign Management
Channel Management
Commission Management
Contact Management
Contract/License Management
Customer Database
Customer Management
Dispatch Management
Drag & Drop
Driver Management
Field Sales Management
Forecasting
Inventory Management
Pricing: Contact the vendor for all the price details.
Pro Tip: CG Cloud also provides sales managers with insider information and analytics to help them better understand their accounts and enable reps to execute in the field.
8. Gofrugal: Best Inventory Management Software for Small Business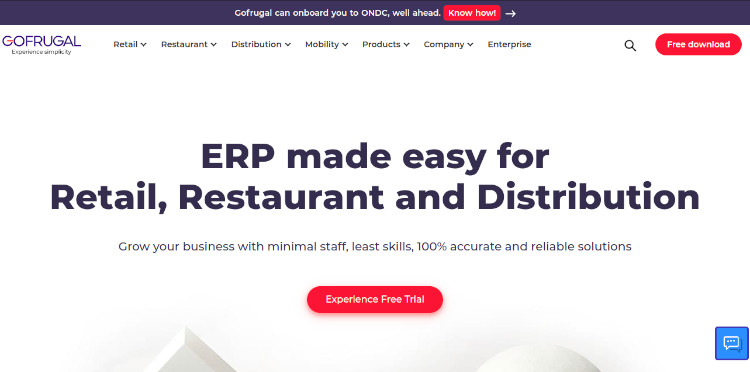 GOFRUGAL is a provider of Point of Sale (POS) billing software for a variety of businesses, including retail, restaurant, and distribution. Supermarkets and groceries, hypermarkets and department stores, pharmaceuticals and healthcare, clothes and footwear, lifestyle, fashion, opticals, sports and games, spa and salon, electricals, books, stationery, hardware, and sanitary products are just a few examples.
The current business automation solutions come with multiple mobile apps and cloud deployments, with the latter charged per node, per register monthly, and annually.
Data syncing allows GOFRUGAL's Cloud POS to be accessed from anywhere on any device, with online and offline functionality. Multi-store administration, centralized supplier management, and a fully automated purchase and restocking procedure are among the key features.
This includes processing approvals as well as raising, creating, and generating buy indents, purchase orders, and GIN/GIR. Inventory control makes stock inventory tracking easier from purchase to sale, and BI-powered reporting tools send sales performance feedback directly to your mailbox.
Features:
Accounting
Customer Management
E-Commerce
Inventory Management
Invoice
Multi-Currency
Payment Handling
POS invoicing
Warehouse Management
Sales Tracking
Business intelligence (BI)
Commission management
Stock Management
Purchase, Inventory Management & Consumption Tracking
System Security & Software Management
Pricing: It comes with a free trial and a free version; contact the vendor for more pricing details.
Pro Tip: The WhatsNow POS Owner's app for real-time store updates, my pulse for obtaining customer feedback, ServQuick for quick checkout, and Insight for retail analytics are among the GOFRUGAL companion mobile apps available for iOS and Android devices.
9. inFlow: Best Inventory Management Software for Small Business
inFlow is a stock control platform that may be used on-premise or in the cloud. It's intended for small to medium-sized businesses, but it's also been used in some very large and sophisticated organizations. It improves accuracy by streamlining and organizing essential management procedures.
It prioritizes organization, purchasing, and control to assist operations in tracking inventory, applying barcodes, and accurately meeting customer expectations. Users can customize papers, handle multi-currency transactions, and more.
Features:
3PL Management
Accounting Integration
Alerts/Notifications
Backorder Management
Barcode / Ticket Scanning
Barcoding/RFID
Billing & Invoicing
Cataloging/Categorization
Check-in/Check-out
Contact Database
Cost Tracking
Customization
Forecasting
Inventory Management
Inventory Optimization
Pricing: Light: $71 per month for two users (paid annually; $79 per month if paid monthly). Standard: $179 per month for five users (paid annually; $199 per month option) Plus, for ten users, it's $449 per month (paid annually; monthly option is $499).
Pro Tip: Live chat, email, and phone help are all available.
10. Ordoro: Best Inventory Management Software for Small Business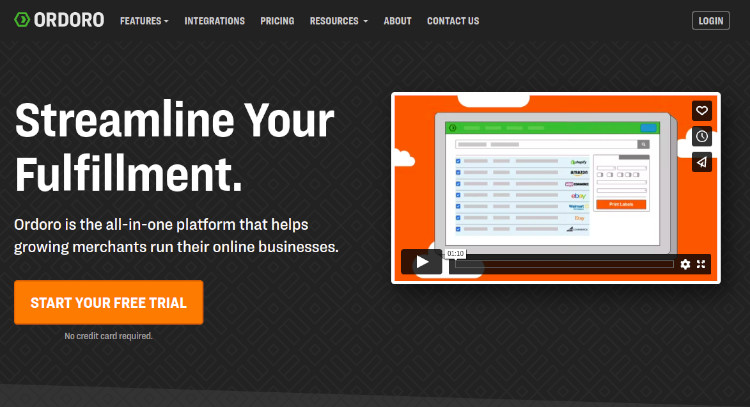 Ordoro Lumira is a dependable, user-friendly, and intelligent shipping system with inventory management capabilities. It's been painstakingly built to help retailers handle every step of the process after a customer places an order on their website. Shipping, inventory management, and drop shipping are among the processes that the technology automates and makes error-proof.
A powerful API is used to enable seamless integration with popular online sales channels and make shipping orders more effective and efficient using the industry's leading carriers. Furthermore, Ordoro is reasonably priced, and it comes with several features that other e-commerce platforms lack.
Ordoro acts as a control center for all sales channels, keeping your inventory in sync throughout your shopping carts and marketplaces – no more manual updates! As orders are placed, and products are refilled, Ordoro tracks inventory changes and sends information to all storefronts. Ensure that your customers are happy and that you don't run out of goods.
Features:
Air Shipping
Alerts/Notifications
Backorder Management
Ground Shipping
Inventory Management
Inventory Optimization
Kitting
Multi-Channel Management
Order Entry
Order Fulfillment
Order Tracking
Parcel Shipping
Product Identification
Reorder Management
Reporting/Analytics
Pricing: They provide flexible pricing depending on actual platform utilization. With plans starting at $59, no set-up costs, and no contracts, there's nothing to lose! They also provide all new customers with a complimentary 30-day onboarding to guarantee that their operations function properly.
Pro Tip: You can develop and print shipping labels for up to 100 orders at a time. Ordoro is directly integrated with USPS (through Endicia), UPS, and FedEx, allowing you to print ready-to-use labels that include postage – all you have to do now is wait for the postman to arrive.
Roundup
We hope you liked our presentation on "Best Inventory Management Software for Small Business: 2022." Do let us know in the comment below your thoughts about it and which platform you would be going for!