If you own a small business, you may be seeking suggestions on how to raise money to expand your business. It is time to raise some real funding once you have created a company strategy, invested your own savings, and operated your enterprise as a side hustle for a few months.
Fortunately, the bank is no longer your sole choice. There are websites where people can make investments in your venture, concept, or company. Nowadays, there are several crowdfunding websites on the internet. If you're looking to fund a startup, a creative venture, or raise money for a project or initiative, this list of the best crowdfunding websites has something for you.
Table of Contents:: Summary
hide
Best Small Business Funding Platforms
The following is a list of some well-known websites for small business crowdfunding:
1. GoFundMe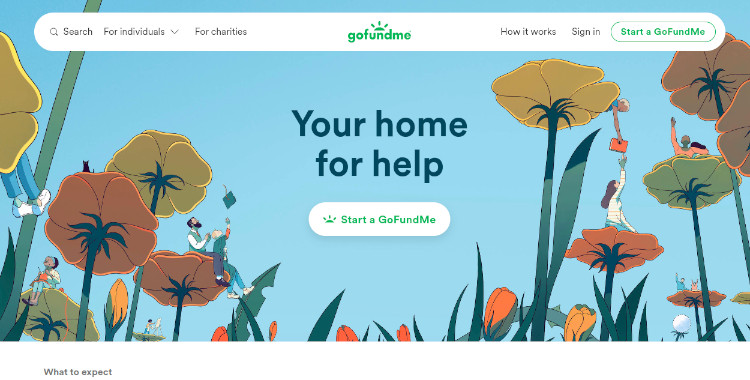 GoFundMe is a well-known crowdfunding website that enables users to donate to organizations and causes that are important to them.
GoFundMe isn't the best crowdfunding platform for every kind of startup, but if you're in the business of aiding people or animals who require assistance because of illnesses, unexpected situations, or other disadvantages, it's something to think about.
GoFundMe, like FundAnything, enables you to raise money for any purpose you choose, from paying for medical bills to supporting a nearby sports team. The philanthropic division of GoFundMe, like that of Indiegogo, allows you to raise money for a nonprofit organization.
The option to keep all of the money you raise and the lack of financing fees for US-based personal causes are two of GoFundMe's biggest benefits. Just keep in mind that because of the site's enormous popularity, GoFundMe campaigns have a low success rate, so you'll need to work particularly hard to get people to learn about and support your initiative.
2. Patreon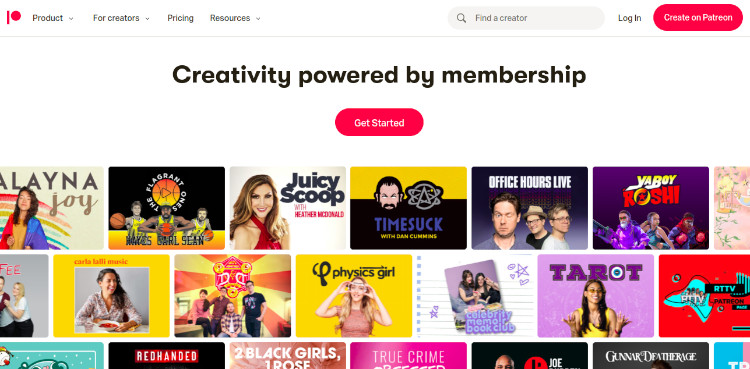 Patreon is a subscription-based crowdfunding platform that has assisted independent creators such as YouTubers in establishing a consistent stream of revenue raised from individual subscribers. After YouTube started stiffening up its monetization regulations, making it more challenging for them to earn ad income on the platform, its popularity skyrocketed.
The internet has provided a forum for many creative people, including musicians, videographers, and podcasters, to share their work. But as more people shift to having entirely online professions, ad money from platforms like YouTube might not be sufficient to fund the material they produce. For this reason, a lot of online creators are signing up for crowdfunding platforms like Patreon.
Over 2,00000 podcasters, singers, painters, writers, and other creators have raised $2 billion on Patreon to fund their work. You can essentially design monthly membership plans for your audience, allowing them to support you in exchange for free material or access to Patreon-only stuff.
You may support your preferred content producer on Patreon by giving them a monthly donation. Supporters, or "patrons," may get exclusive uploads, ad-free content, early access to new work, and the chance to make ideas in return. The names of many YouTube creators' supporters are listed at the end of each of their videos.
3. Start Engine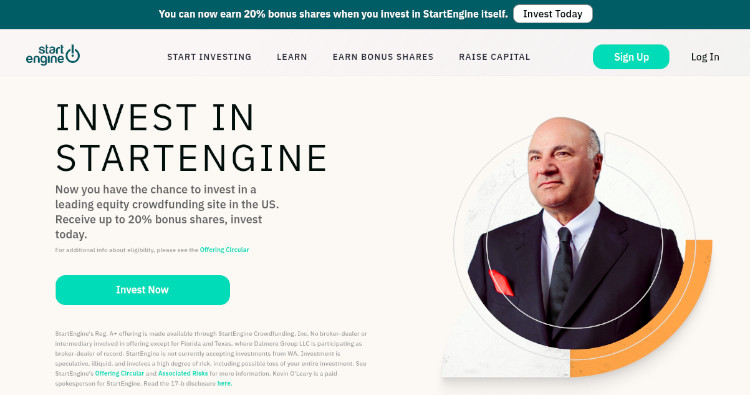 StartEngine is a platform created for investors looking for lucrative opportunities to invest. The platform succeeds because it gives common people the chance to put money directly into businesses they like in exchange for shares. On this platform, users can start investing with just $100.
StartEngine has the distinction of executing crowdfunding under both Regulation A and Regulation CF. Elio Motors raised $17 million through the fundraising effort. Features If you register, StartEngine will provide you with an account manager who is solely responsible for your account. It has a variety of advantages for investors, including the option to use a credit card for purchases. You may access a dashboard provided by the platform as well, which is helpful for seeing live analysis of all conversion rates and investments. Moreover, the dashboard also allows you to discover the investment history and other vital facts about your organization.
StartEngine also aids in your decision-making by providing useful firm data like as its value, price per share, number of investors, etc. Investing itself is a very easy process. Simply click the "Invest Now" button, enter your information, and provide your payment information.
4. SeedInvest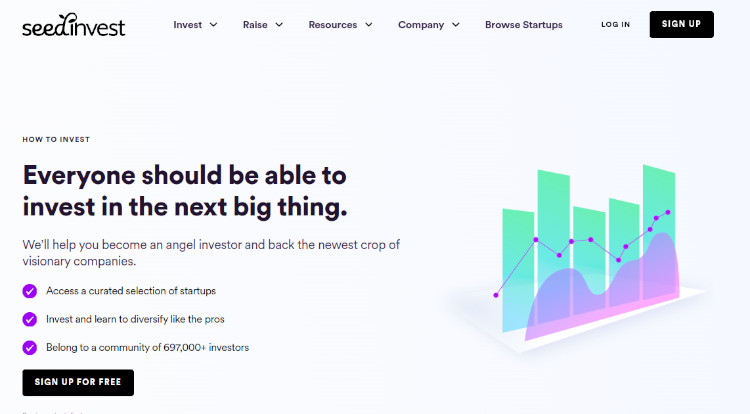 The idea behind SeedInvest was to make fundraising simpler for nascent firms. We can confidently say that it is one of the top crowdfunding websites for startups after bringing in over 500000 investors during the course of its existence.
If you are the creator of a startup, all you need to do is register to open an account with SeedInvest, complete an application, and pass a screening process.
You must set up your official profile on SeedInvest if the company determines that you are qualified to raise capital through it. You can use a calculator offered by SeedInvest to get an idea of the approximate cost of raising capital on the platform. On SeedInvest, campaigns may span 45 days to six months.
5. Kickstarter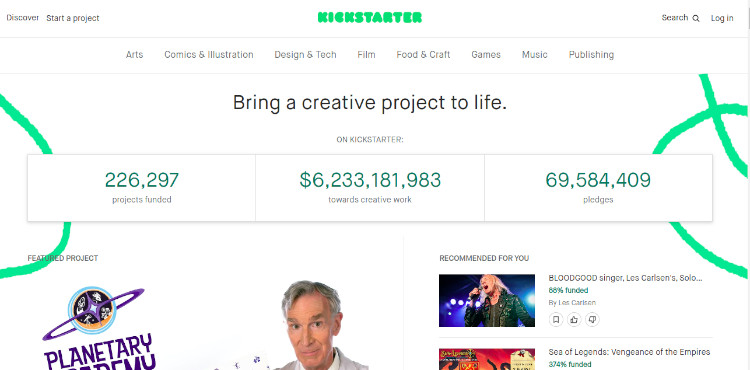 Kickstarter is likely the most well-known name in the world of artistic financing. Since the platform's 2009 launch, artists, singers, creators, and filmmakers have mostly used it to realize their ideas. Set your goal amount and the timeframe in which you want to reach it when starting a fundraising drive on the platform.
Of course, before being accepted, your project will go through a vetting system. This helps investors trust the platform by keeping it free of fraudulent fraud. To thank your supporters, you might also set aside a special occasion or gift.
It takes a lot of work to finish a Kickstarter crowdfunding campaign successfully. It's a fiercely competitive platform that picks and chooses which crowdsourcing initiatives are permitted on the site. Additionally, in order to receive funding on Kickstarter, your project must "make something to share with others." Additionally, your project must fit into one of Kickstarter's carefully chosen categories, such as gaming, film and photography, fashion and design, crafts, and technology.
If you reach your target, there will be a 14-day waiting time before you can receive the funds.
6. Fundly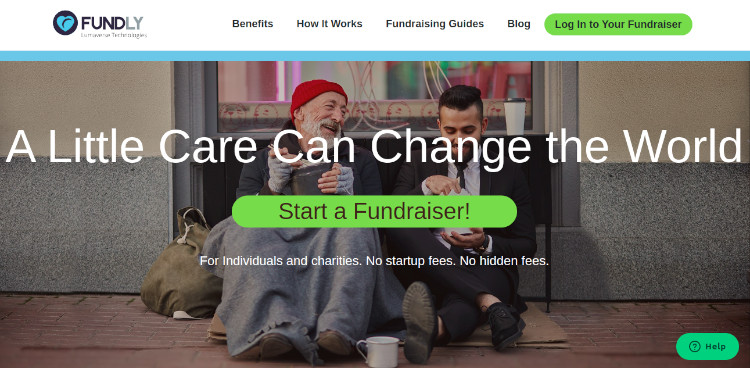 Fundly enables you to raise money for virtually any purpose. Fundly can assist you in raising money without any raise restrictions or startup costs for everything from movies to supporting startups. Fundly has been used successfully to raise funds for politics and individual medical expenses in addition to the traditional domains.
The flexibility users have to cash out at any time is maybe what really sets Fundly apart from its rivals. After registering donations, you have 48 hours to withdraw your money. The technology also enables automatic money transfers.
7. Indiegogo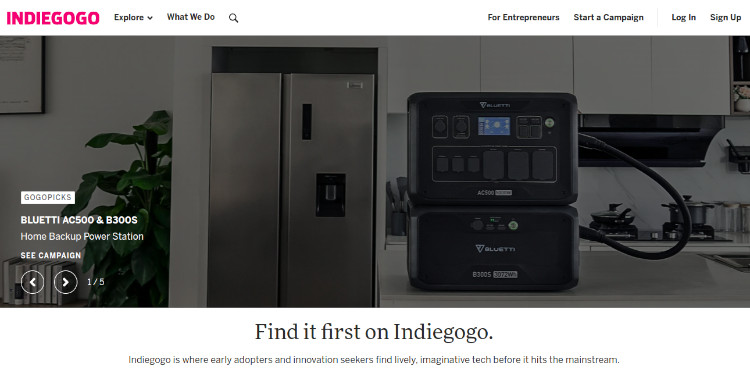 Indiegogo not only provides both active crowdfunding campaigns and a platform for cutting-edge goods. They have assisted business owners in raising $1 billion for over 650,000 projects. With the help of the "global network of early adopters" at Indiegogo, you may determine whether your idea has legs and raise seed money.
You are not required to stop raising money via this platform at a particular period. There are no set fundraising goals or timelines, and you are free to use equity, offer securities, share in revenue, or even sell cryptocurrencies.
Every project on Indiegogo has assessed a 5% platform fee. GoFundMe, the sibling site of Indiegogo, doesn't charge any fees if you're raising funds for a cause.
How Do Small Business Fund Raising Platforms Work?
Crowdfunding is the strategy of financing a business directly from the public through a large number of modest donations. By receiving a crucial boost in cash flow, these enterprises can launch or begin new projects. The bulk of these campaigns use internet platforms, have pre-established fundraising deadlines, and outline specific financial goals.
In India, crowdfunding has only recently started to gain momentum. The first issue newcomers encounter when entering the corporate sector is "funding."
Due to a lack of resources for bootstrapping or assistance from friends or family, startups must resort to institutions and angel investors. However, banks frequently demand significant collateral in order to approve business loans for new entrepreneurs. It might be challenging at times to persuade investors. that crowdfunding sites can be crucial in assisting business owners in realizing the full potential of their concepts.
A collection of people pooling their resources for a single objective is known as crowdfunding. the project, This idea involves approaching the general public to raise money for your idea, startup, project, or cause.
According to a survey, less than 2% of businesses raise money from professional investors. This is significant for a variety of reasons, including non-scalable businesses and a dearth of exits. The 98% of firms left behind still require funding to advance.
Several well-known crowdfunding platforms in India include Indiegogo, FuelADream, Ketto, Catapooolt, Fundable, Kickstarter, Wishberry, and Milaap. These platforms not only assist startups or individuals with product launches but also allow them to gauge the market's level of interest in their offerings. Indian crowdfunding is still much less than American crowdfunding if we compare the two markets. Estimates suggest that this could soon change, though.
The Bottom Line
The standard way for companies and artists to raise money in the modern era is through crowdfunding. Websites that enable online fundraising can assist organizations and individuals in raising money for a range of causes in a time- and cost-effective way.
Many of the great companies and entrepreneurs we see today have benefited from platforms like Patreon, Kickstarter, etc. The websites mentioned above are among the top platforms for crowdfunding that are utilized to raise money all around the world. Depending on the kind and amount of cash you require, you can select the website that best suits your demands.
As for our advice, if you want to raise money for your business, we advise giving Indiegogo a try. On the other hand, Kickstarter is great for supporting creative projects.