HR ( Human Resources) are the primary assets of an organisation. The quality of the human resources determines the productivity level of the organisation and the investment in this sector is core to the health and sustenance of the business. The Proper HR business intelligence tool can be your ticket to successful human resource management. The right software to track applications, keep records of the interviews , performance management , leave management , payroll tracking are the must have features required by any organisation be it agency or corporate giants.
Choosing the Best HR Tool for Your Small Business
The HR tools for small business are really essential for record keeping and cost effective data maintenance in the long run. The small business enterprises have limited infrastructure to store records or the proper help to do the same. However, during this time, the HR software with the advanced artificial intelligence can be your saviour . Let us take a look at the components to consider when you are looking for the right HR tool for business.
Facts you should consider before investing in a HR Tool :
Application Tracking
Employee Status
Performance Monitoring
Training and Development
Timesheet Management
Leave Management
Payroll Records
Paid HR Tools for Small Business
BambooHR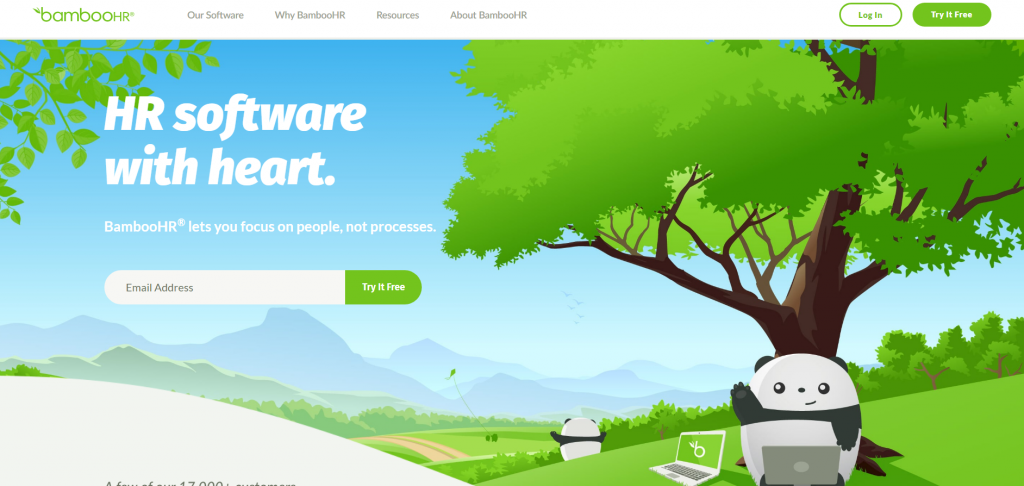 The BambooHR software collects and organizes all the information that you gather throughout the employee life cycle , then helps you use it to achieve greater goals. Whether you are hiring , onboarding , preparing compensation , BambooHR gives you the time and insights to focus on the most important asset – your people . Visit at : https://www.bamboohr.com/
Features
People Data and Analytics
Mobile Hiring App and Applicant tracking system
Onboarding , E-signatures and Offboarding .
Compensation
Culture
Pricing
Free Trial is there for initial registration.
What Customers Love About It ?
Aaron Wheeler (Wistia) says : " It's freeing me up to do more of what actually matters in HR ".
Amanda Schneider says : " It feels like I have another HR team member who is there to help me".
Zenefits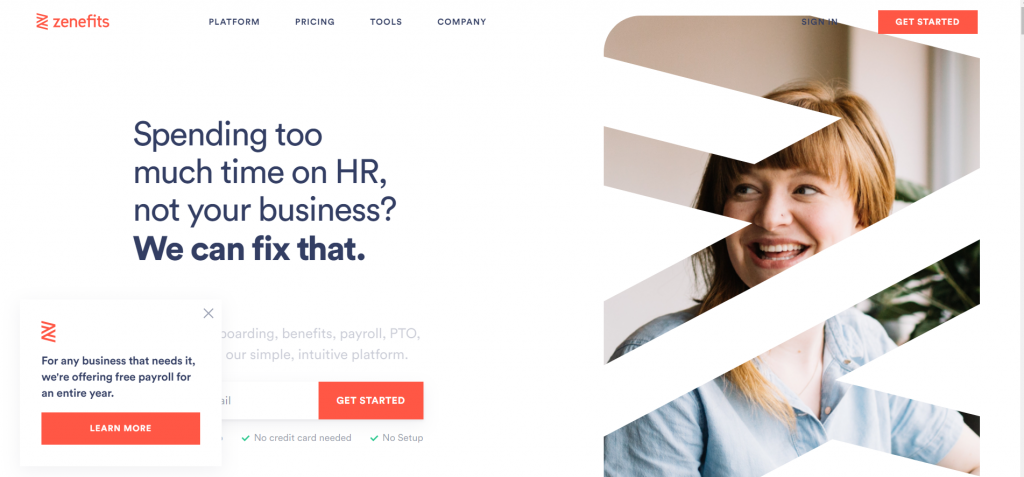 The Zenefits is a HR tool for small businesses that can manage your people with ease , from streamlined onboarding and easy PTO tracking to organisation charts , performance appraisal and so much more. Zenefits comes with a free 14 day trial , requires no setup and no credit card payment is mandated. Zenefits aids in streamlining onboarding, payroll, benefits , PTO with the simple intuitive platforms. The add-ons has the payroll , advisory services , benefits admin etc. Visit at : https://www.zenefits.com/
Features
Zenefits has the following tools : Resources , Workest ( Small Business Resources ) and Support .
Pricing
Zenefits has in stock three investment plans consisting of base plan ( $8) , Growth Plan ( $14) and Zen Plan ($21) .
What Customers Love About It ?
Ashley Landazo ( Rocksauce) says : " When we onboard our employees, it's really quick and easy. We get to focus on making sure that they are okay and they are happy , and being introduced to the company.
Mike Kernis ( Robust Wealth ) says : " It's really painless for me to go from -8 employees. It is not an effort . I don't even have to think about it. My onboarding time and hiring time is two minutes for an employee.
CakeHR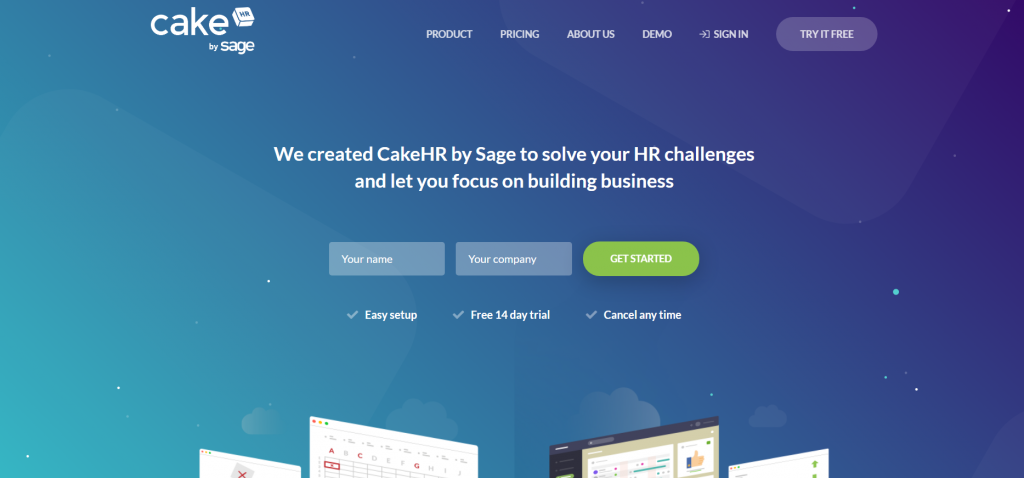 The CakeHR by Sage helps to solve the integrated HR challenges and lets you focus on building your business. CakeHR has an easy setup , free 14 day trial and you can cancel any time. CakeHr helps you get productivity instantly with onboarding , automating , storing meaningful insights and much more. Visit at : https://cake.hr/
Features
Pricing
All features for your HR needs – Leave Management , Performance , Shift scheduling , timesheets and recruitment etc. will come under one umbrella at $216
What Customers Love About It ?
Alina Roscina ( Airbaltic) says : " First time I was impressed how powerful cakeHR is , when our cabin crew members provided 11k feedbacks to each other in two weeks ! "
Craig McCormack ( GetApp) says : " Great software with a great team behind it . "
KissFlow HR cloud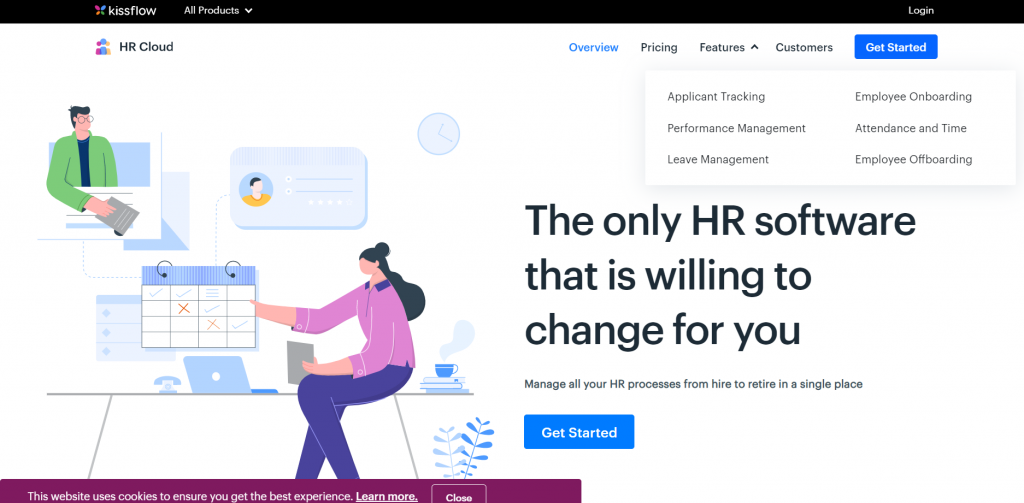 HR Cloud of Kissflow is the only HR software that is willing to change for you . The Hr processes were kept simple , made smarter with the essential features of attendance management , applicant tracking , employee onboarding , leave management , performance management etc. It helps your company to hire the right talent , build an engaging workforce, and empower employees. .'The proud clients of Kissflow HR cloud includes – Dominos , Jet , The Telegraph , Casio , Comcast and Bata.
Features
The Tools of KissFlow HR cloud – Applicant Tracking , Employee Onboarding , Performance management , Attendance and Time , Leave management and Employee Offboarding. Visit – https://kissflow.com/hr/applicant-tracking/
Smart Job Publishing , Lasting impression Paperless onboarding , employee self service are some of the facilities of the employee onboarding tool.
It provides a collaboration platform , effortless integration and digital signature features.
It makes your reviews qualitative , performance action plans , keeps performance analytics in check , counts goals and milestones.
Pricing
The HR cloud has a standard plan of $690 per month upto 100 users with a free trial version .
The Enterprise Plan consists of an investment of $1290 per month with unlimited users with a free trial version .
What Customers Love About It ?
Jojo Mania ( Director ) says : " Kissflow is a great way to measure performance and monitoring processes . "
Oliver Umehara ( SoftBank Telecom America) says : " The beauty of Kissflow is how quick and easy it is to create the apps I need. It's so user-friendly that I made exactly what I needed in 30 minutes."
Zoho People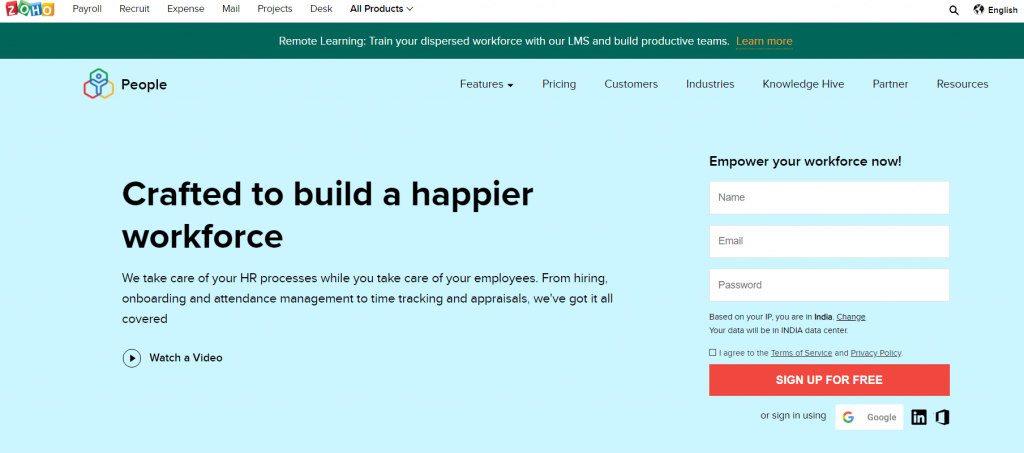 Zoho People is crafted to build a happier workforce. It takes care of your HR processes while you take care of employees. From hiring , onboarding and attendance management, Zoho takes care of every issue. Zoho people has clients from top brands like Medlife, spicejet , Renault Nissan Mitsubishi etc. Visit at : https://www.zoho.com/people/features.html
Features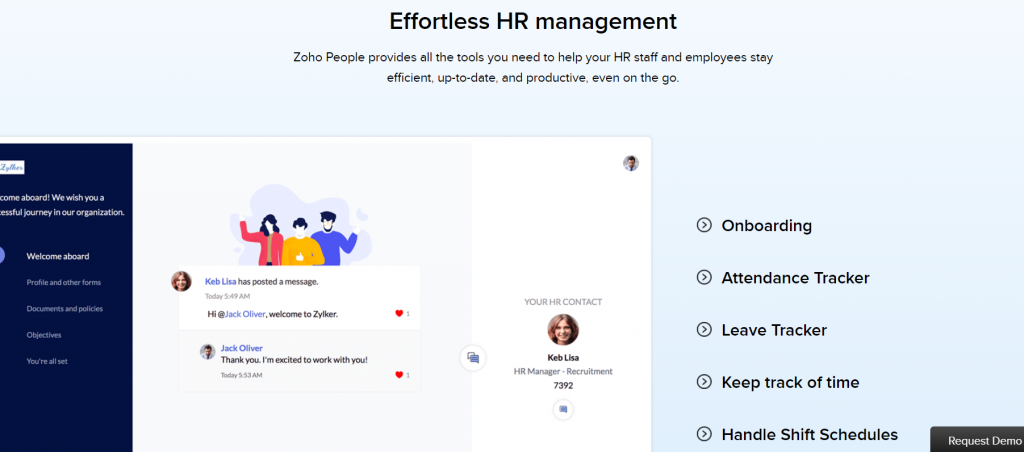 The Popular Tools of Zoho People – HR Essentials , HRMs, Automation and Customization , HR Analytics etc.
Employee Database Management , Timesheets , E-signatures are some of the features of HR essential tool
Employee Onboarding , Corporate LMS , Attendance tracker , Shift scheduling are some of the features of HRMs tool.
HR process Automation and HR process customization
Pricing
Zoho People HR software services comes at various price tags you need to know about : Essential HR ( Rs. 42 / – Billed monthly or yearly) , Professional Plan ( Rs. 83 /- billed monthly or annually ) , Premium Plan ( Rs. 125 /- billed monthly or yearly) , Enterprise plan ( Rs. 167 /- billed monthly) and People Plus ( Rs. 299/- billed monthly )
What Customers Love About It ?
Rahul G. (HR Associate) says : " It is easy to use . User interface is very attractive and user friendly."
Darka S. ( Software Engineer) says : " Good product for the price . "
Paylocity
Paylocity is for professionals who craves true partnerships , Paylocity is the HR and payroll provider that frees you from the current tasks , so together , we can spend more time focussed on the promise of tomorrow. Our Products and Tools comprise of – Payroll , Workforce Management , Human Resources , Talent , Benefits and Engagement .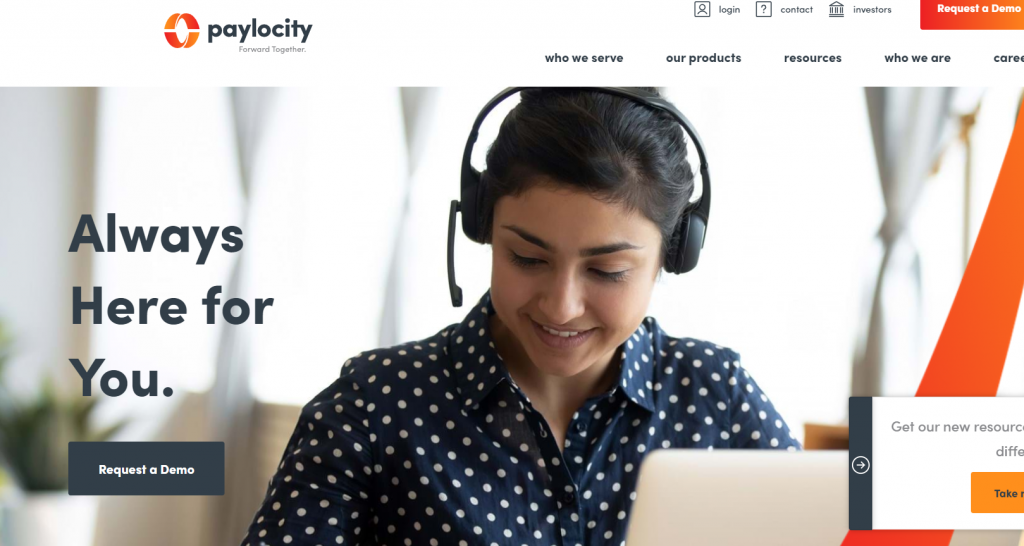 Features
Workforce Management : Geofencing Parameters , time Clock Kiosks , Mobile App , data insights , integrations .
Payroll : Configurable , Pre-process register and data integration
Human Resources : Quick Edit Templates , Custom Checklists , Employee Action Forms , Dynamic Reporting and Position Management .
Pricing – Enquire at – https://www.paylocity.com/contact/
What Customers Love About It ?
Chris Shepardd ( HR Director at Private Golf Club) says : " What makes Paylocity different is that I do believe that they care."
Workday HCM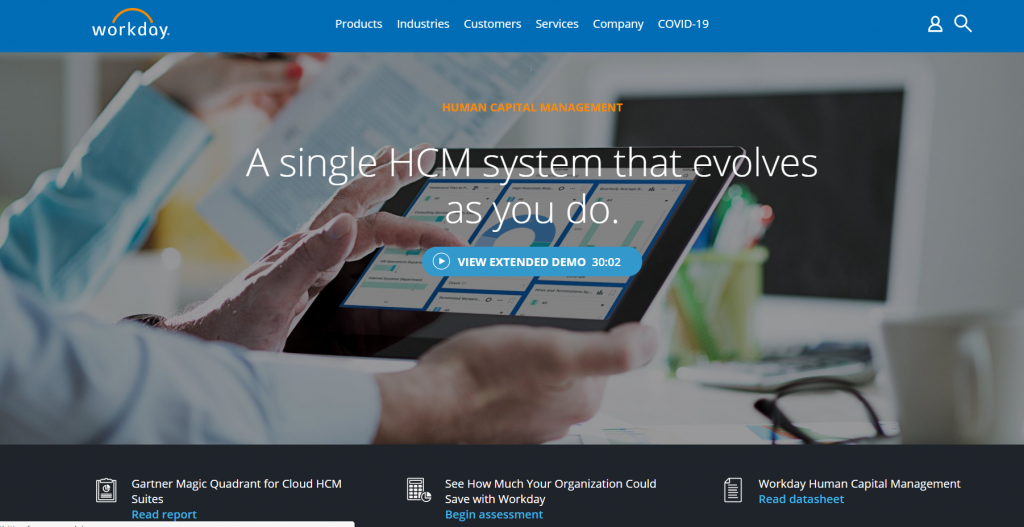 Workday HCM is an inspired approach to Human Resource Management . It is easily planned for recruit , and develop talent using a single system : Workday Human Capital Management (HCM) . It engages the people on the preferred device and has tools like – enterprise planning , human capital management , payroll, cloud platform , analytics, finance management and data -as-a-service tools.
Features
Financial Planning – Full Portfolio reports management , ad hoc reports , variance analysis , easy dashboard , operational reports planning .
Human Resource Management – Visualize talent in a flash , Configure any business process at any level , self service and a friendly interface.
Pricing – Enquire at : https://www.workday.com/en-us/homepage.html
What Customers Love About It ?
Hewlett Packard Enterprise : " With Workday , you get an honest partner. You get world-class usability. "
Our proud customers include – Netflix, National Geographic , Bill Gosling , Cushman and Wakefield , Airbnb , Arbella Insurance Group etc.
TriNet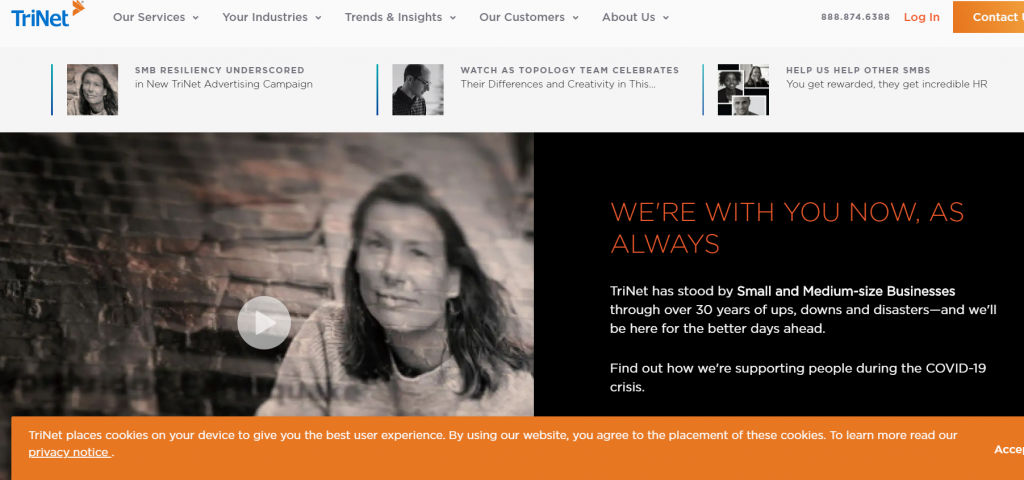 Trinet is a supporting HR software that is curated for the people and it helps in getting the guidance you require on tough HR concerns. As the company expands , it helps in teaming up with a solution provider and you are freed up to focus on your people and the growing business.
Features
It has industrialized special teams that rely on the industry specialized experts and helps handle the HR responsibilities effectively.
HR Consulting Expertise and Benefit Options
Payroll services , Technology platform and Risk Mitigation.
Pricing – Not Applicable as per website.
What Customers Love About It ?
Alyssa Rapp (CEO) : " I can lean on TriNet's HR expertise and scale to do so ".
Joseph Guzel ( Crosslink Capital) : " When we make a new investment , TriNet is one of the first recommendations that we make to our startup founders for their employees . "
Rippling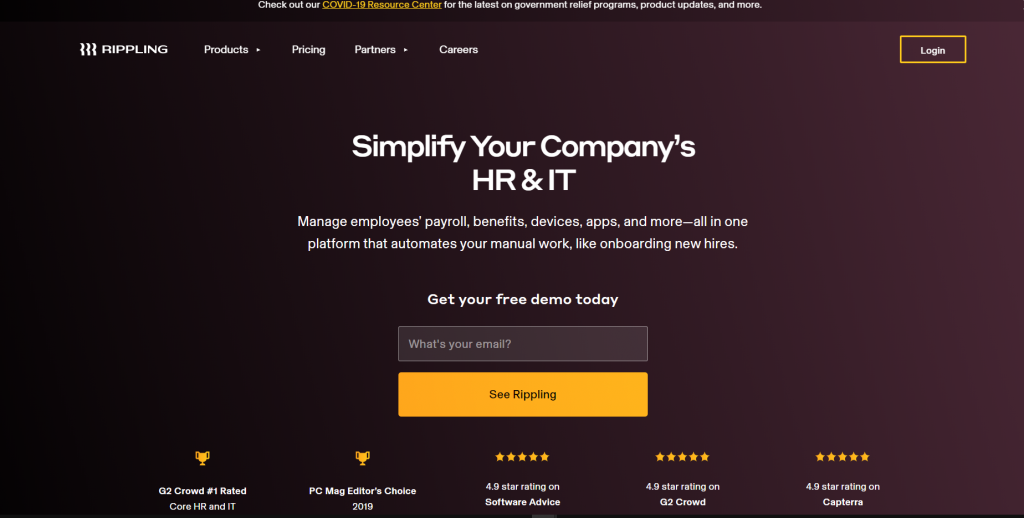 Rippling simplifies your company's HR and IT. It helps in managing employees payrolls , benefits , devices , apps and it is an all-in-one platform that automates your manual work like onboarding new hires.Rippling has attractive products for HR management namely – Employee Management platform , Payroll, App & Access , benefits and devices and Security .
Features
Onboard Automation – Onboard employees in 90 seconds
Integration – Integrate with 500+ apps and automate every manual task.
Automate changes and approval workflows
Digitally sign , store and send every document
Assigns tasks to new hires and managers
Pricing – Rippling starts at $8 a month , per user.
What Customers Love About It ?
Lillian ( People Operations) says : " Rippling makes onboarding new employees so easy and seamless ! What used to take me hours , now only takes me a few minutes . It's amazing !"
JustWorks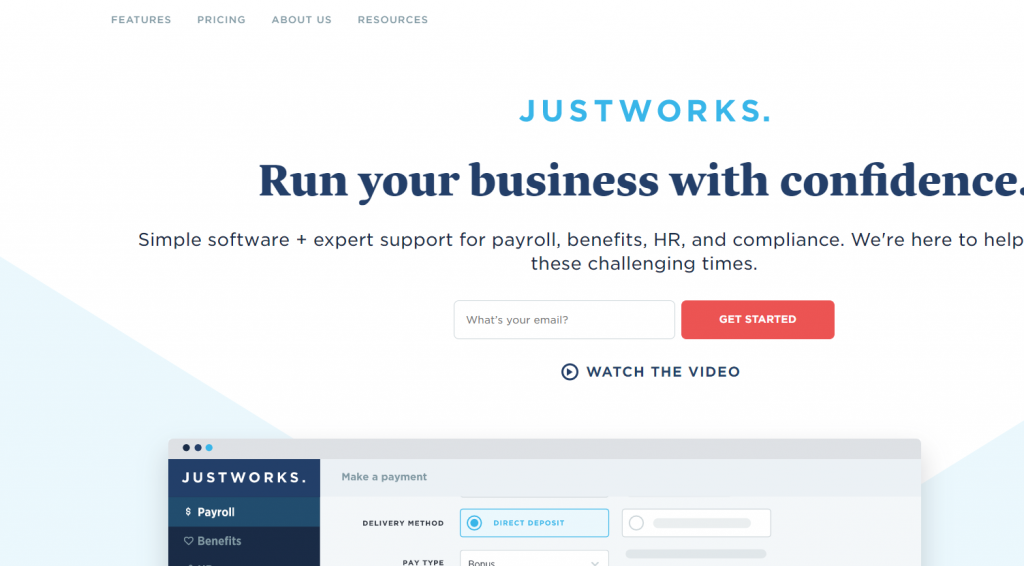 It is a simple software for your human resource requisites , it renders expert support for payroll , benefits , HR and compliance. It helps in upgrading to the needs of the complexity of the HR functions. The tools are – HR Tools , PEO , Payroll tools etc.
Features
Justworks makes work and life easier and fun to navigate.
It can bundle Payroll, compliance , HR , and benefits under one umbrella and assists in administering employment related opportunities with ease.
The tool helps in getting access to health insurance , vision insurance , health advocacy services and fitness memberships.
The HR tools help in managing paid time off , onboard new employees , store important documents and track key business metrics.
Pricing
The Basic Plan ( Payroll, Benefits , HR Tools and Compliance) – $44 per month per employee
The Plus Plan ( Basic, Access to Medical , Dental and Vision) – $89 per month per employee.
Final Thoughts | Best Small Business HR Tools
Now that you are aware of the HR tools , it is time to build the human resources for small business and start-ups. Your human resources are the escalating assets of the company and it is important to boost the human manpower even after the recruitment procedures and then maintenance of the well being of the employees along with the assessment of the performance , attendance , layover , communication etc.