Invoicing software is a well-built computer application that allows you to track cash inflow and outflow while monitoring your company's financial health. This automatic software gives you a complete study of your business from several angles, substantially speeding up and streamlining the payment process.
Invoicing is a hassle. It can take a long time to create invoices, send them out, and follow up on outstanding debts. Furthermore, recurring invoices may be costing you money without your knowledge. Online invoicing software is an excellent replacement for outdated accounting systems.
You can handle these operations more effectively using company invoicing software and save a lot of time and money as a consequence. There are numerous alternatives available that make sending personalized invoices simple. Also, to ensure that you are paid on time and that you do not lose track of the amounts you due.
Billing and invoicing software can help with this. This program allows you to keep track of your sales or services provided, as well as who was billed, what fees or charges were imposed, and when money was received (or when it was meant to be paid but wasn't).
It also provides a data conduit for all of that information to be recorded in your other accounting and bookkeeping systems. This workflow is classified as Accounts Receivable in accounting terms. While many small businesses still use spreadsheets or word processors to keep track of their data and produce invoices, there are lots of specialist software tools that make the job go much faster, easier, and with less work.
Most invoicing systems are cloud-based, which means there are no downloads and only a web interface from which you can set up access, send, and update invoices and billing from anywhere utilizing mobile apps.
Furthermore, workflows that allow for estimates, time taken, and cost breakdowns, as well as team collaborations, are frequently given.
Some invoicing software is sold alone, while others are sold as part of a larger accounting software platform, allowing you to upgrade to something more complex as needed. Some expenditure tracking apps and software can also be used with invoicing software.
How to Choose the Best Invoicing Software Tool for Small Businesses?
When it comes to analyzing billing and invoice software, you and your team should come up with a list of questions to ensure you're getting the best solution for your business.
These are some of the questions you should ask yourself. You can add a suite according to your needs.
When selecting the best invoicing software tool for small businesses, you should know:
Revenue Streams from Multiple Businesses are Supported: A platform that supports various revenue sources is critical if you are dealing with multiple companies or have an "umbrella" corporate structure (one main organization overseeing several member enterprises). This functionality allows you to store multiple records across several companies without incurring additional costs.
Late Payment Notifications: Finding and monitoring late payments, especially if you're dealing with a large corporation, can be time-consuming and costly. However, using this program, your system will send you email notifications alerting you to any outstanding payments.
Support for several currencies and regions: In today's world, working across geographical borders is a typical occurrence. Working across borders, albeit functioning smoothly with the help of modern business technologies, offers a hurdle when it comes to completing tax returns due to different taxation rates.
Automated processes: Your company may be a small one, with a low quantity of invoices to maintain. This does not, however, imply that doing your accounting by hand is any easier. Accounting duties, despite their simplicity, are generally repetitive, making them highly tiresome and monotonous to perform manually. Consider an automated invoice management solution that will swiftly produce invoices in just a few clicks to avoid making an error due to dwindling concentration.
Searching Capabilities: You should be able to quickly get data from a decent invoicing software tool's database. The majority of invoice management software has a huge storage capacity. Sifting through huge data points to find a single invoice, on the other hand, can be arduous, especially if you're doing it manually.
Consider a system with powerful search functionality to save time and find an invoice with a single click. You may use this function to track down bills by date range, person, and the amount of work done.
Make certain that the invoicing software you're using is secure: It is critical for your business to keep track of its financial data. All of your financial documents should be safeguarded from illegal access with invoicing software. You must choose a tool from a reputable seller to ensure this. You can tell if the software is safe to use by reading consumer reviews.
Consumer service is of the utmost importance: Even if a software product has a lot of capabilities and appears to be reliable, difficulties are unavoidable. Your entire financial system could be down for hours or perhaps forever if you don't have customer assistance, resulting in the loss of vital data. As a result, it's usually a good idea to look for invoicing software that includes support.
Best Invoicing Software Tools of 2022 for Small Business
Take a look at some of the best online invoicing tools for small businesses for the year 2022.
1. Quickbooks Online: Best Invoicing Software For Small Business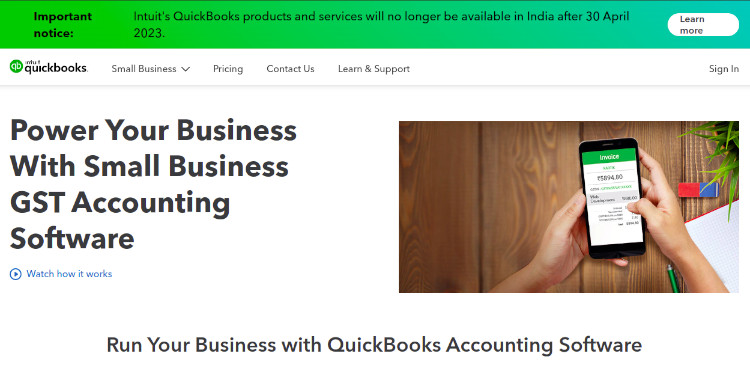 QuickBooks Online is a cloud-based accounting program that assists small business owners with bookkeeping and accounting. QuickBooks Online allows you to access your accounting platform from any computer with an internet connection (as opposed to the classic QuickBooks Desktop), as well as from your mobile device. QuickBooks Online can be accessed by a variety of web browsers, as well as the QuickBooks Mac or Windows app.
QuickBooks Online is available in four different pricing options and is available on a monthly subscription basis. Each QuickBooks Online package comes with more features and, as a result, more capability. You do not have to sign a long-term contract, as this accounting software allows you to execute critical accounting activities as well as automate your procedures.
Features:
Automatic tax calculations
Banking data synchronization
Invoice management
Custom invoices
Estimate creation
Mobile receipt capture
Dashboards and feeds
Bill management
Multi-device document sharing
Pay online link in invoices
Check printing
Profit and loss reporting
Balance sheet reporting
Payment Tracking
Actionable insights
Sales and expense management
Smartphone compatibility
Support for Mac23
Automated online banking
Export data to excel
Pricing: There is no need for a credit card if you want to avail a 30-day free trial.
Contractors who work for themselves: $10/month for self-employed
Small companies: Begin with a low-cost plan of $20 per month; $40/month for the essentials; Plus: $60 per month
Pro Tip: Reports like profit and loss statements, costs, and balance sheets can be run and exported.
2. Freshbooks: Best Online Invoicing Software For Small Business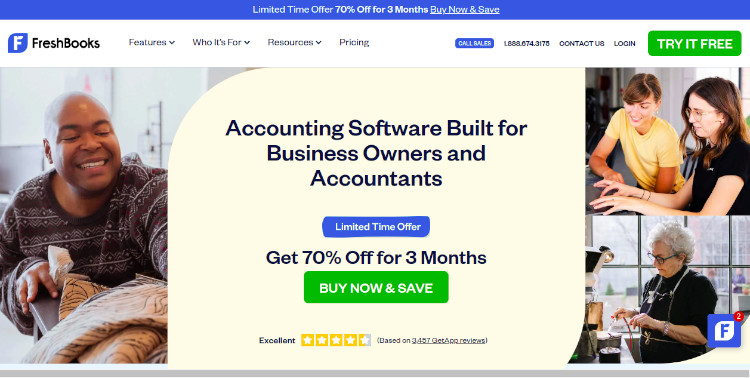 FreshBooks is an all-in-one accounting software that includes billing and invoicing. It is one of the best invoicing systems for small businesses. It's a popular option for companies of all sizes. Additionally, you have the flexibility to expand your accounts receivable prowess.
FreshBooks may be used by self-employed individuals, small enterprises, agencies, and larger businesses, which is something we like about it. They can meet your requirements. FreshBooks does not ask you to adapt your business to their platform; instead, their software transforms your billing and invoicing needs into exactly what you require.
This software allows for the quick creation of the professional-looking invoice. FreshBooks may also be used to accept online payments such as credit cards, ACH, Apple Pay, and more. FreshBooks allows you to keep track of billable hours, deposits, expenses, and estimations. It also includes project management and team collaboration capabilities in one package.
Features:
FreshBooks allows customers to customize invoices and set up recurring billing and auto payments. Consumers can pay through credit card or ACH, making it a win-win situation for both business owners and customers.
Invoicing and other services are available on a desktop, tablet, or mobile device. However, some users complain that the mobile app lacks some of the functionality available on the desktop version. Fortunately, the FreshBooks mobile app still allows you to send and review invoices.
A FreshBooks account allows customers access to time and expenditure tracking, project management, payments, and reporting in addition to invoicing. Salesforce, Gusto, Zoom, and Spotify are among the over 100 third-party apps that the program interfaces with.
Pricing:
FreshBooks offers a 30-day free trial, after which you can upgrade to one of the following paid plans if it's a suitable fit for your company:
For five or fewer billable clients, the Lite plan is $15 per month.
Plus, for six to fifty billable clients, you'll pay $25 per month.
Premium: $50 per month for chargeable clients with 51 to 500.
FreshBooks also offers custom pricing for organizations with more than 500 customers if your needs surpass the Premium plan.
Pro Tip: All options come with an unlimited number of invoices, estimates, time tracking, and expense monitoring. FreshBooks comes with a 30-day money-back guarantee, so you can test it risk-free.
3. Zoho Books: Free ​​Invoicing Software Tools for Small Business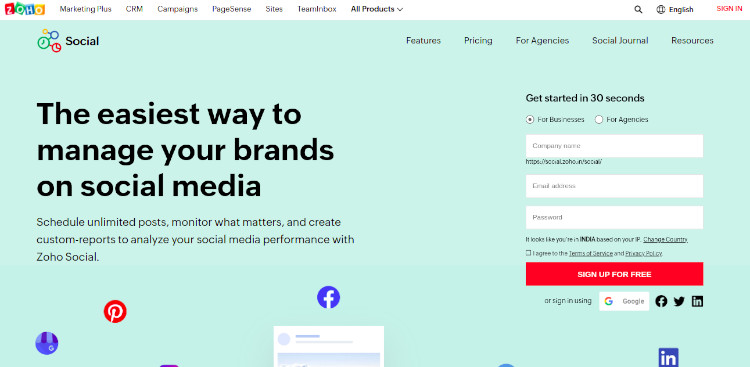 Zoho Invoice is a complete invoicing software solution for small to medium-sized enterprises that are well-organized and simple to use. It has a lot of easy-to-use features, and a lot of them may be automated to save you time when it comes to paying.
Zoho Invoice also has its report generator, which you can view and update via accessible applications because it's cloud-based. There should be no problems accepting payments because this software is linked with 11 payment gateways and can bill globally.
Features:
API for AB Testing
Account Alerts Access Controls/Permissions
The activity of Accounting Integration Activity Tracking Alerts/Notifications Dashboard Activity Management
Analytical/Return-on-Investment (ROI) Monitoring
Appointment Scheduling Appointment Management
Observation of behavior
Budgeting/Forecasting
Scanning of Business Cards and Badges
Controlling Business Processes
Management of Buyers
Calendar Management in CRM
System for Syncing Calendars and Reminders
Management of Call Centers
Pricing: The program is free to use for up to five people, which may be quite handy for a business wanting to test the waters and see if Zoho Invoice is worth investing in.
While there is a more expensive package for unlimited consumers, it may be better to upgrade to Zoho Books instead, which includes both invoicing and accounting software. So, unless you have a backup plan in place, it could be best to upgrade the product rather than the plan for heavy users.
Pro Tip: Users of Zoho can set up recurring invoices and automatic payments, but the benefits of automation go beyond sending invoices. Users may also create process scenarios that trigger email alerts, field updates, and in-app notifications with Zoho Invoice. Automation can also be customized for specific conditions, such as order discounts or late fees.
4. Invoicera: Free Online Invoicing & Billing Software for Small Business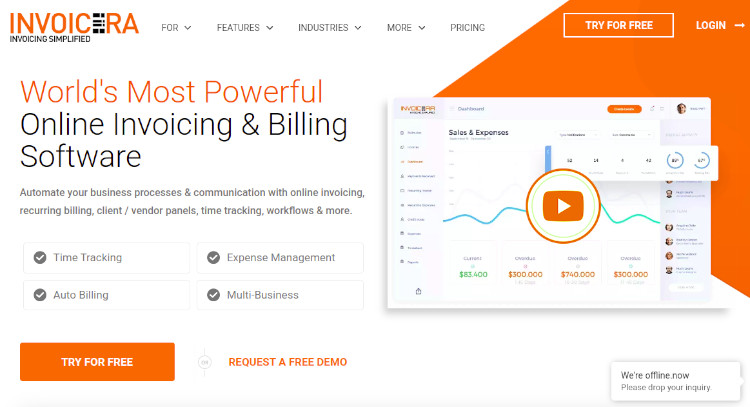 For managing payments, time tracking, and project expenditures, Invoicera is another billing and invoicing software platform. It's cloud-based, like most others, and can be accessed via apps while you're out and about. The software is easy to set up, but it offers a variety of capabilities that allow you to handle practically any part of billing outside of direct accounting.
Although Invoicera may not offer as many templates as some other suppliers, the available ones are entirely customizable. There are also a variety of automation possibilities, such as recurring invoices and subscriptions, which may all be paid for via a variety of payment gateways.
Features:
Authentication
Automatic Time Capture
Billable & Non-Billable Hours
Billable Items Tracking
Billing & Invoicing
Billing Portal
Client Portal
Contact Database
Credit Card Processing
Customizable Branding
Customizable Invoices
Customizable Templates
Data Import/Export
Data Visualization
Document Templates
Electronic Payments
Estimating
Expense Tracking
Hourly Billing
Invoice History
Invoice Management
Invoice Processing
Mobile Access
Mobile App
Mobile Payments
Pricing: Invoicera offers a 15-day free trial to allow you to explore its capabilities; there's a lot to learn, so this is an excellent place to start. After that, assuming you're satisfied, you can choose between the free starter package, which has limited functionality but allows you to work with data from three clients but with no staff functionality.
You can upgrade to the Pro package for $15 per month, which includes 100 clients, one staff, PDF protection, and multi-business capabilities. The most popular option offered by Invoicera is the Business package, which costs $29 per month and includes 1000 client capability, ten staff allowances, PDF protection, and an approval process function.
The Infinite package, on the other hand, costs $149 per month and includes unlimited clients, unlimited staff, batch PDF-ing, and a built-in approval process. When you consider what it offers in terms of time-saving tools, the latter edition, which is geared toward larger businesses, appears to be a good value.
Pro Tip: By going to the Settings section of the service, you can get even more out of Invoicera. Inside, you can customize a variety of features, including your basic account information and general preferences. You can also import clients, employees, and projects from Basecamp here, as well as invite others to work in the Invoicera environment.
In the most recent edition, there is a new Apps section, which beefs up the service's performance characteristics. Invoicera's creators have also included 3-layered security and firewall protection in the feature set.
5. Wave: Affordable Invoicing Software Tools for Small Business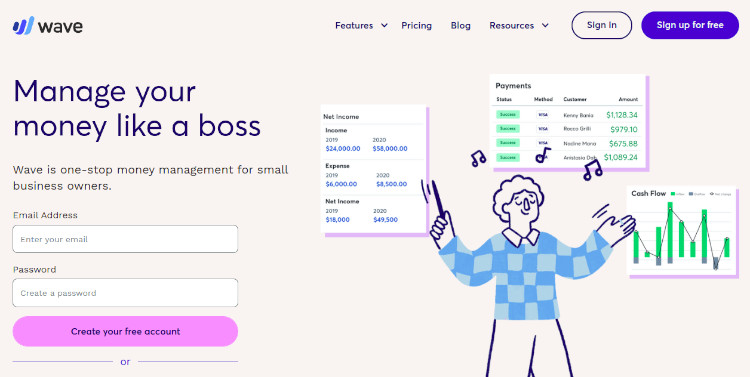 Wave is the best invoicing system for small business and entrepreneur-focused accounting and financial software that has won numerous awards.
Wave is a comprehensive accounting solution that goes much beyond billing and invoicing. From a single platform, the program allows you to track income, expenses, receipts, and payment acceptance. The best part is that Wave accounting software is completely free.
Payment acceptance will be charged on a per-user basis. Credit card processing for Visa, Mastercard, Discover, and Amex, as well as bank payments via ACH transfer, are all supported by the program.
Features:
Here's a rundown of all the freebies you'll get if you join up with Wave:
Invoicing is not limited.
Billing regularly
Reminders that are sent automatically
Wave's mobile app allows you to manage invoices on the go.
Notifications of invoices
Tracking of unlimited income and expenses
Keep track of sales tax reports.
Connections to your bank and credit cards are unlimited.
Scanning of receipts is unlimited.
Pricing: It is free to use business accounting software.
Pro Tip: With free iOS and Android apps, you can send invoices as soon as the task is completed, no matter where you are. Wave invoices, accounting, credit card payments, and payroll all "speak" to each other, ensuring that everything is always current.
6. Invoicely: Free Online Invoicing for Small Businesses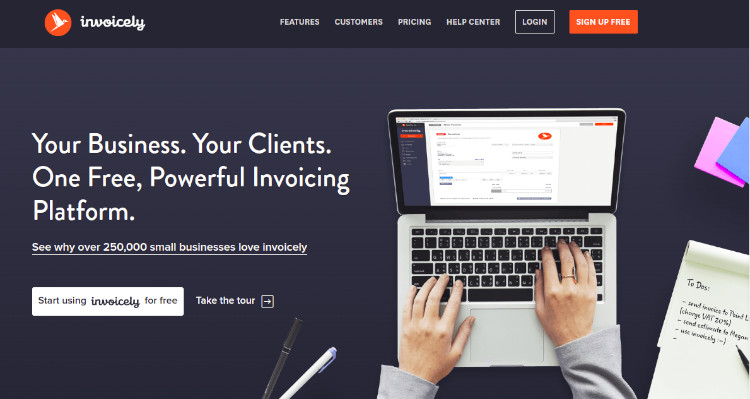 Invoicely is a good billing and invoicing software platform that starts with a free version. It comes with a variety of pricing options as well as nearly all of the features you'd expect from a tool in this category. It has the multi-currency capability and excellent reporting capabilities.
Besides managing invoices, invoice supports a multitude of features, including time and expense tracking, recurring invoicing, team management, and direct online payments on invoices.
The app excels in terms of usability. Because it's cloud-based, there's no setup required; all you have to do is register an account with Invoicely, fill out a few business details, assign your URL, choose a payment gateway, and set permissions for your team, and you're ready to go.
Aside from optimizing the invoicing and billing process so you get paid on time, the program focuses on keeping things organized. Easy navigation and comprehensive features lead to productivity and efficiency, which non-accountant users like the most. Invoices, bills, dashboards, reports, settings, and other UI buttons are strategically placed to provide easy control and visibility of your tasks and operations.
Its integrations with major online payment services, simple bookkeeping tools, and scalable choices ensure that you get paid on time, stay on top of your finances, and have the flexibility to expand your businesses.
Features:
Billing & Invoicing
Dashboard
Online payments
Time tracking (paid plan only)
Expenses tracking (paid plan only)
Mileage tracking (paid plan only)
Estimate to invoice conversion (paid plan only)
Multiple businesses management
Branding
Customizable email/automatic email sending
Contact/client information management
Automatic reminders
Data export & import
Multi-currency support
Reporting Sales tax settings
Accounting integration
Pricing:
Basic Plan – $9.99
Professional Plan – $19.99
Enterprise Plan – $29.99 invoicely offers a free plan that includes unlimited clients and invoices.
Pro Tip: Logging in is seamless, and the dashboard offers great versatility by generating income reports as well as telling you what amount of money is still due.
7. Xero: Best Online Invoicing Software Tools for Small Business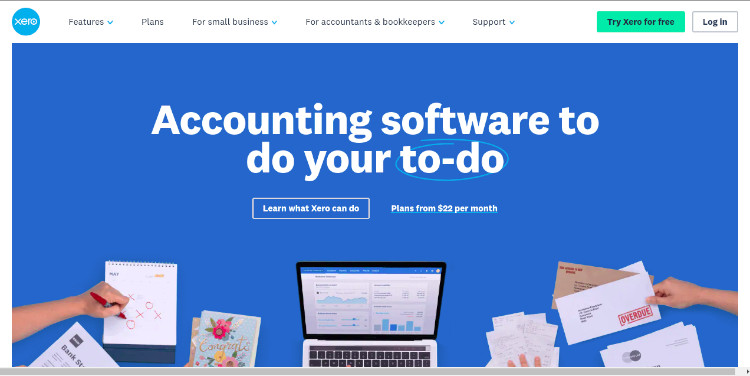 One of the best software for accounting, Xero is cloud-based accounting software that helps small business owners better manage their finances. Users have real-time access to their cash flow from any device, allowing them to work on the go. Xero also has features like swift bank reconciliation and online invoicing that help firms get paid faster.
With unlimited users and 24/7 support, Xero is accounting software with all the time-saving capabilities you need to build your business. Xero is also known for its security and dependability.
Features:
Financial reporting and budgeting
Fixed assets are assets that cannot be changed.
VAT (Value Added Tax)
Orders for goods
quotations for sales
File storage in many currencies
Customer relationship management: contacts and smart lists
Dashboards for business performance
Hubdoc is used to collect data.
Pricing:
Free trial available
Early: $5.50/month
Growing: $16/month
Established: $31/month
Pro Tip: Through its relationship with Gusto, Xero offers an optional full-service payroll solution. A straightforward interface allows users to perform an unlimited number of payrolls. Users won't have to manually re-enter data because payroll data syncs with Xero for speedier reconciliation. Finally, in all 50 states, full-service payroll and tax filing are available.
8. Elorus: Free Invoicing Software Tools for Businesses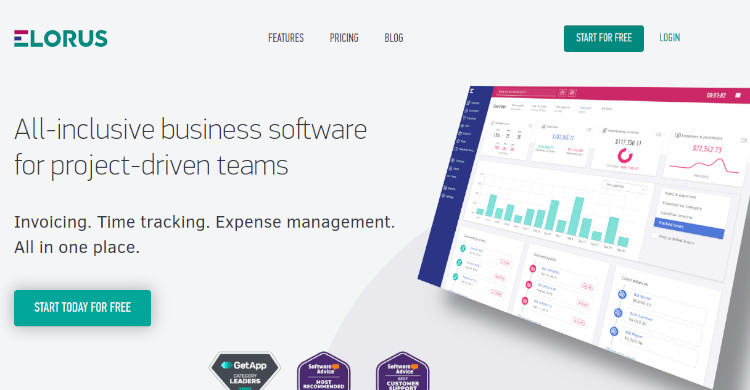 Elorus is a client portal-integrated web-based invoicing and billing software. Instead of sending bills to consumers, the program allows experts, teams, and enterprises to spend more time figuring out how to enhance their income.
Elorus provides users with connectors to online payment gateways that make accepting service fees easier and faster. Furthermore, the solution automatically contacts clients to remind them of their obligations. Users can also expect a more efficient workflow with Elorus. Aside from invoicing, billing, and client administration, the software helps the team's work processes run more smoothly by giving accountants and partners access to organizational data.
Features:
Invoicing Billing
Estimates
Online PaymentsProcessing
Expense Management
Team Collaboration
Client Portal
Reports
Pricing: Elorus has not provided pricing information for this product or service. This is common practice for software sellers and service providers. Contact Elorus to obtain current pricing.
Pro Tip: Online payment, project billing, different currencies, and online invoicing are all possible with Elorus. It allows users to create personalized invoices with more simplicity. One can keep track of time for both clients and projects.
9. Giddh: Best Invoicing Software Tools for Small Business in India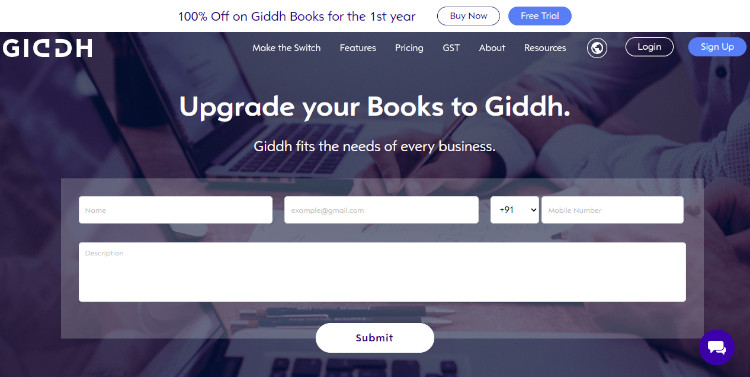 Giddh is a full-featured cloud accounting software that includes a ledger, bookkeeping, invoicing, inventory, numerous sorts of reporting, GST1 and GST2 filing, and much more.
Giddh automatically computes the data and delivers a variety of reports. It is so simple to comprehend that you may review all of your company's accounts without the assistance of an accountant. It is customizable and meets all of your business's demands according to your specifications. It is one of the best invoicing apps for small businesses.
Features:
Bank reconciliation
API integration
Analytics
Inventory Management
Billing and Invoice
Dashboard
Multi-currency
Mobile app
Tally integration
GST compliant
Import and Export data
Pricing: Customers can choose from the following pricing options for software use based on their business needs:
Giddh price is free for a year for an organization with 500 transactions.
For up to 10,000 transactions, Giddh costs Rs. 800 per year per organization.
Giddh prices start at Rs. 4000 per organization per year for up to 40,000 transactions.
Pro Tip: You can use its unified search for quick and better results.
10. Lano.io: Free Invoicing Software Tools for Small Business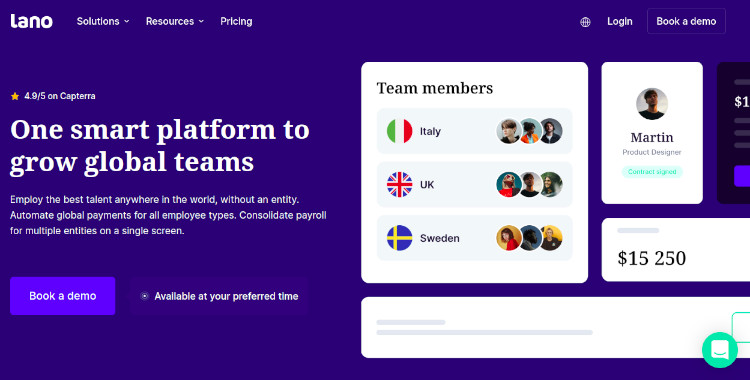 Description: Lano is a program that allows you to manage incoming and outgoing invoices and payments. Customers, freelancers, and projects may all be organized with the software. Contacts are also stored in a database and classified according to user preferences.
With integrated templates, freelancers, service providers, and other organizations may create invoices automatically. Payments are tracked, and payment reminders are available. Lano also enables freelancers to send invoices to businesses directly, and bill payments may be made with a single click.
Lano is especially well-suited to employment agencies, independent contractors, freelancers, and small businesses. The application keeps track of working hours, which are used to generate invoices. Lano also uses to-do lists and timesheets to keep track of his job. An intelligent financial planning function is also included in the program.
It provides for real-time project costs, total spending, and individual item planning. The database contains the contact information for partners and freelancers, as well as their skills. It is possible to form teams with certain traits and assign orders directly from the database.
Features:
Budgeting
Forecasting
Compliance Management
Contractor database
Reporting/Analytics
API integration
Pricing: A free trial is available; contact the vendor for more pricing details
Pro Tip: Lano is designed for freelancers, agencies, and general service providers who need an automated invoicing, payment, and partnership management solution.
Roundup
Invoicing software, regardless of the type of business you own, will help you save time and get paid faster, but not all invoicing software is created equal. You need to know your requirements before making a decision. Companies like Invoice Simple, Invoice Ninja, and Zoho Invoice may be your best options if your primary goal is to discover a quick, easy, and economical way to send invoices. These applications specialize in one thing: invoicing, and they're usually cheap, if not free.
Invoicing software from FreshBooks and QuickBooks may provide the most significant benefits if you wish to manage invoices while also gaining access to a range of extra accounting features.
Although some apps are more expensive, they can provide a single point of reference and management for all of your business needs.