Most small business owners know their industries and their businesses like their hands- which is why they are incredible at what they do. But, when it comes to marketing your business, there could be some gaps in formal education. This is completely normal, and we have the solution right here- the best small business marketing courses. If you are an entrepreneur, you have little time and less money to invest in self-improvement. If you pick up on some business courses, it will help you stay up-to-date with the changes in the business world and also help you learn the newer marketing techniques, strategies, how to manage employees, ways to streamline business operations, and help your business grow. Even if you are a seasoned business owner, you can use a little refresher course once in a while. You can also find some of the best Amazon marketing software tools which can be very helpful for FBA sellers.
Right now, the world is full of information, and any topic you wish to learn about, you can find the tools for it instantly. There is no exception for marketing. To make it easy to understand and get started, here is a list of the best small business marketing courses.
10 Best Small Business Marketing Courses: 2022
Take a look at the 10 best small business marketing courses of 2022 to brush up on your overall digital marketing skills.
1. Entrepreneurial Marketing by Massachusetts Institute of Technology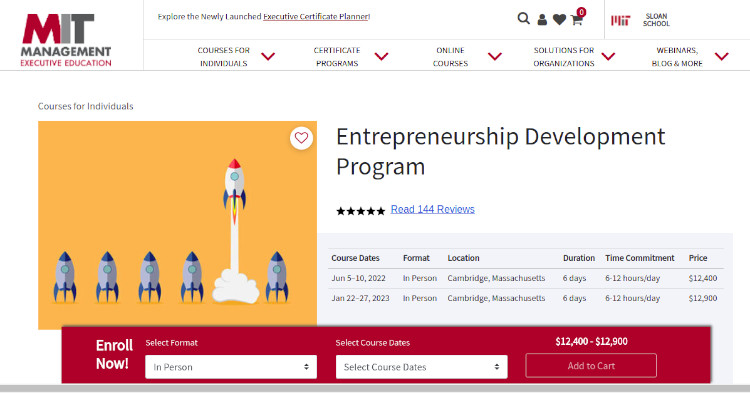 This course clarifies key marketing concepts, methods, and strategic issues relevant for start-up and early-stage entrepreneurs. The course answers your most important questions, which is: what you are selling, who you are selling to and how you are selling and how to best leverage your limited resources. The course gives you a deeper understanding of your major strategic constraints and issues. They will help you identify and evaluate marketing opportunities and talk about the major marketing or sales tools, which are most useful in an entrepreneurial setting. This course is designed to help students develop a flexible way of thinking about marketing problems in general.
2. Entrepreneurial Behaviour by The Open University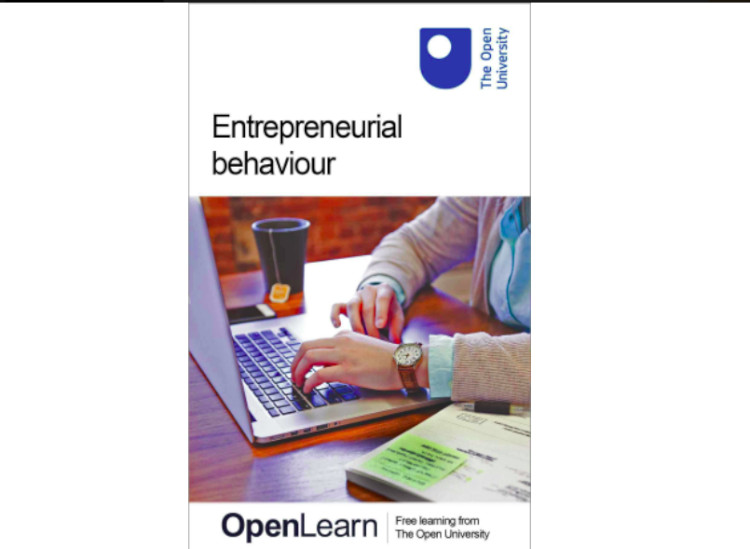 This course has four units and talks about the economic function of entrepreneurs, their qualities, and their work style. Students get an understanding of how to transform their innovative ideas into an entrepreneurial project. They teach you how to develop the ability to set clear goals by supporting your research and through various activities.
3. Transaction Processing for E-commerce by University of Washington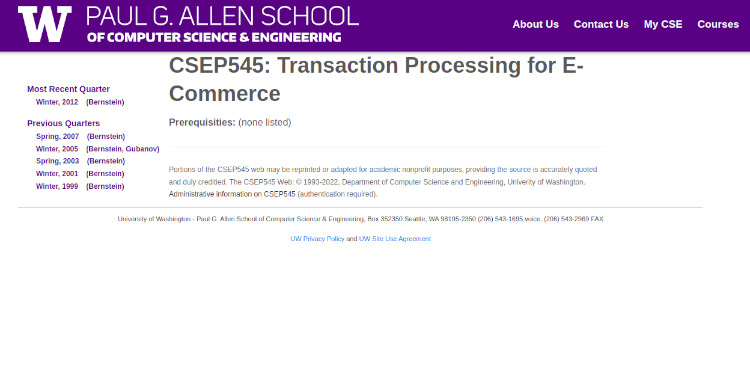 This course is a part of the University of Washington's programs of computer science and engineering. The course is available for free online through various lecture slides and video archives. Students are also given four assignments to enhance their understanding of the subjects. The course provides a deeper understanding of the engineering aspects of transaction processing, which includes how to implement and distribute a transaction system in Java or C++. The course has not specified prerequisites, but it does appear to be an advanced level course, and students must have a general understanding of web programming and basic knowledge of SQL.
4. Innovation, Markets and Industrial Change by The Open University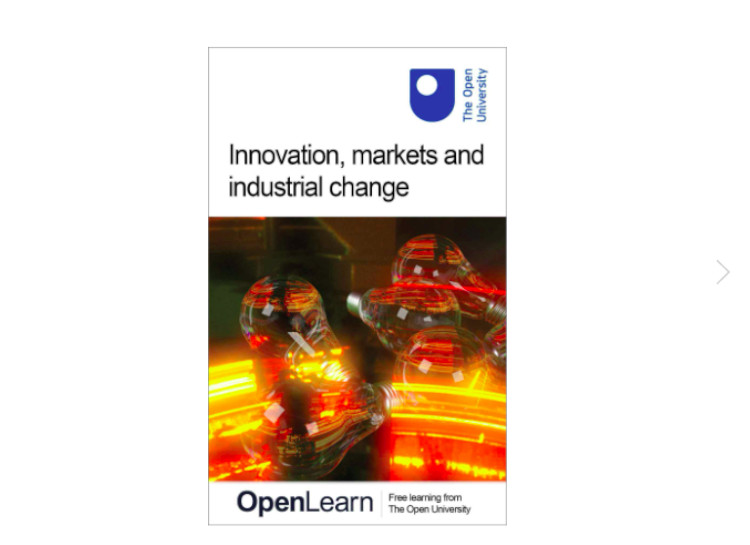 This course looks at how and why change occurs through the industry life cycle, at the role of innovation and at how production costs, demand and technology interact to shape industrial structure. The course will help you understand how and why change occurs through the industry life cycle, at the role of innovation and at how production costs, demand and technology interact to shape the industrial structure and the relation between the quantity demanded of a good and its price as represented by the demand curve. You will be able to analyse the role of technology and costs in influencing industry structure over the life cycle.
5. Introduction to Marketing by Wharton, University of Pennsylvania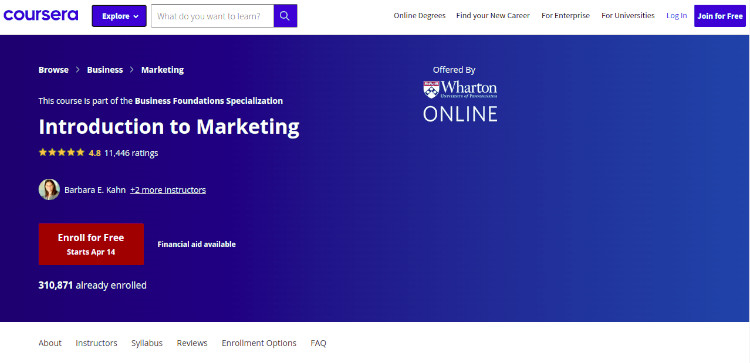 The course is taught by three of Wharton's top faculty in the marketing department, consistently ranked as the #1 marketing department in the world, and covers three core topics in customer loyalty: branding, customer centricity, and practical, go-to-market strategies. You will learn how brand equity is one of the key elements of keeping customers in a dynamic world in which new startups are constantly emerging. The course will take you through customer-centricity, which is not synonymous with customer service; customer centricity starts with customer focus and need-gathering. The course will help understand the drivers that influence customers and see how these are implemented prior to making an investment.
6. Internet Marketing for Smart People by Copyblogger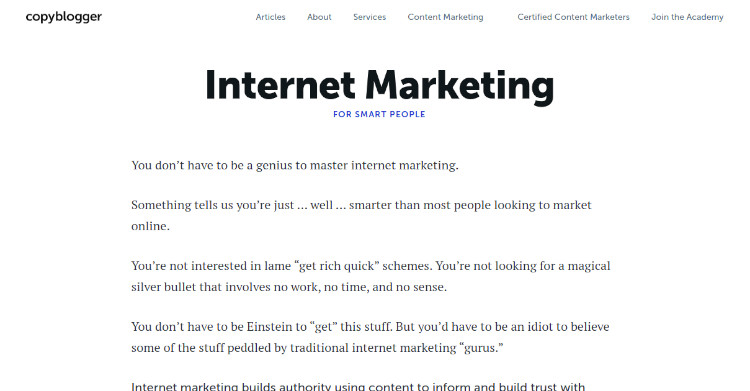 This is a systematic, simple way to understand and implement effective online marketing and will unravel the "Copyblogger method" of creating a profitable online business or marketing your offline business online. They help you understand the four pillars of online marketing success. They help you understand the importance of building strong relationships with the audience and teach you some solid copywriting techniques. They discuss content marketing and how to deliver great content, and that you must have something worth selling.
7. Social Media Marketing for Small Business on LinkedIn Learning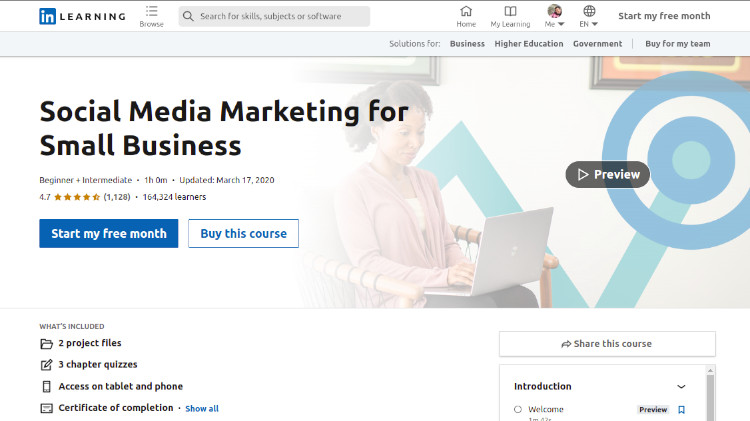 This course will help you learn what it takes to be successful at social media marketing without a lot of resources or dedicated marketing staff. The course is taught by a digital and social media strategist, Martin Waxman, who explains the key terms and definitions—everything from SEO to hashtags—and tells you how to start finding your customers online. You will learn how to make an action plan that outlines your goals, team, and budget and find time to implement your ideas. The instructor also talks about what content to publish where and the tools you need to measure the success of your efforts.
8. Modern Marketing by Seth Godin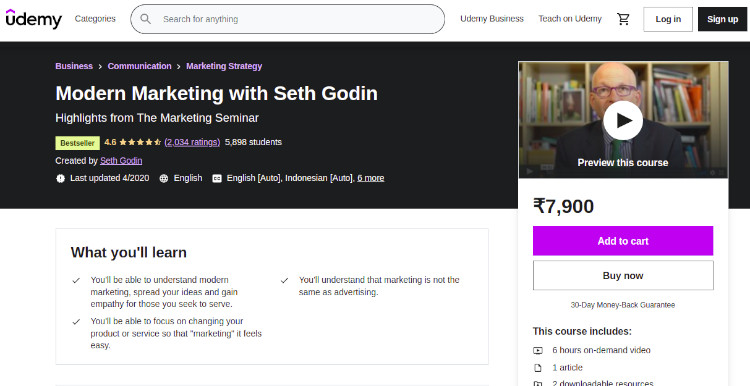 Seth Godin is the writer of the most popular marketing blog in the world, is the author of the bestselling marketing books of our generation, and is known for his live talks and online teaching. This is a course about getting the word to spread, engaging with the market and most of all, understanding how modern marketing can transform your project for the better. The course teaches you to serve your customers, grow your business, and make a difference. Once you work your way through the more than 45 lessons, your strategy will become more clear, your empathy will deepen, and you'll begin to see the market as it is, instead of merely wishing it to be what you want. This video-highlights course includes all the lessons, but not the case studies or discussions.
9. Facebook Marketing for Small Businesses by Nathan Lanka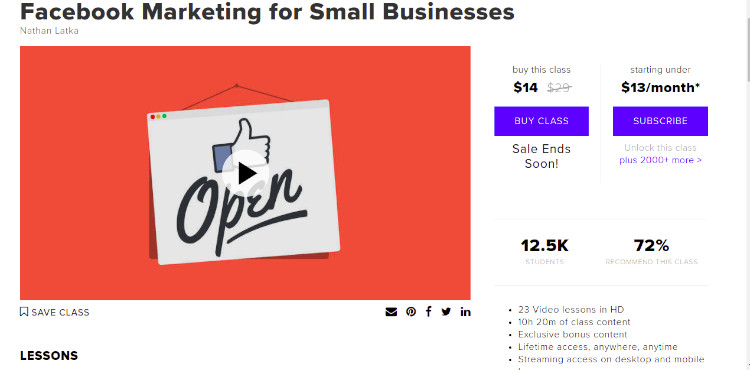 This course will teach you how to take full advantage of the remarkable marketing power of Facebook. The course is taught by a Facebook Marketing pro, which shows you how to use this powerful social media hub to attract customers, turn them into fans, and drive sales. The course focuses on the concrete, practical skills you need to harness the full power of Facebook and guides you through setting up, optimising, and monetising your company's Facebook page. You learn tips about how to build your email list via Facebook, how to use Facebook to pitch, sell, and close, and how to manage your Facebook page effectively.
10. Hype Your Brand on Instagram by Sue B. Zimmerman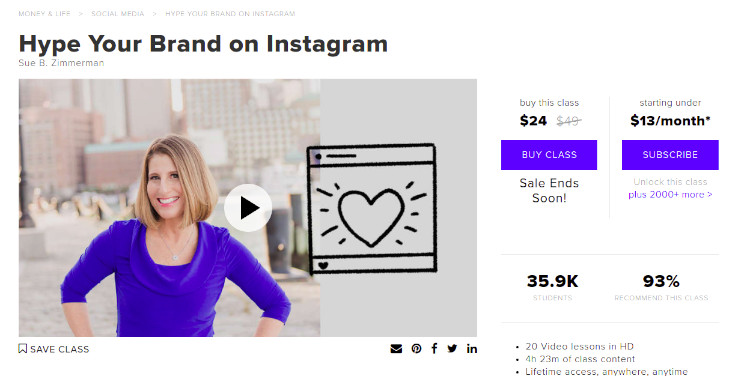 The course is taught by a highly sought-after social media marketing educator, speaker and business coach who specialises in teaching entrepreneurs, executives and marketing professionals how to use Instagram to boost their brand and drive their business forward. The course will explore every aspect of the Instagram universe—from how to use Instagram Stories and Highlights to how to master the site's elusive algorithm—so you're ready and able to grow your presence, build and engage your audience, and rack up sales.
11. Getting Started with Email Marketing by Allyson Van Houten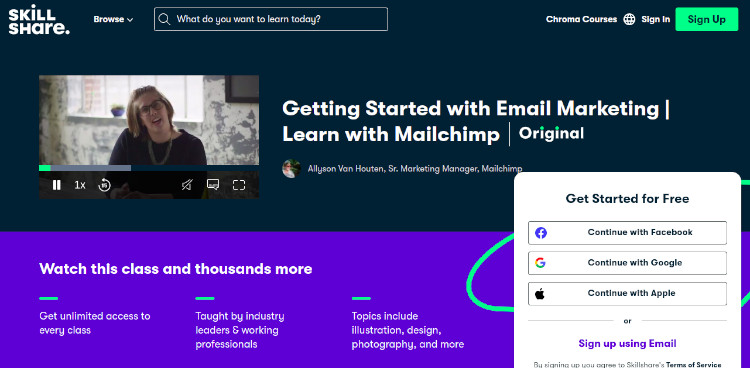 This class teaches you how to make an email marketing strategy for your small business. The instructors drive examples from Mailchimp and talk about the consideration of your goal for a campaign through decisions about the most appropriate content to a step-by-step creation of an email marketing strategy.
12. Crack Cold Emailing to Increase Sales and Grow Your Business by Scott Britton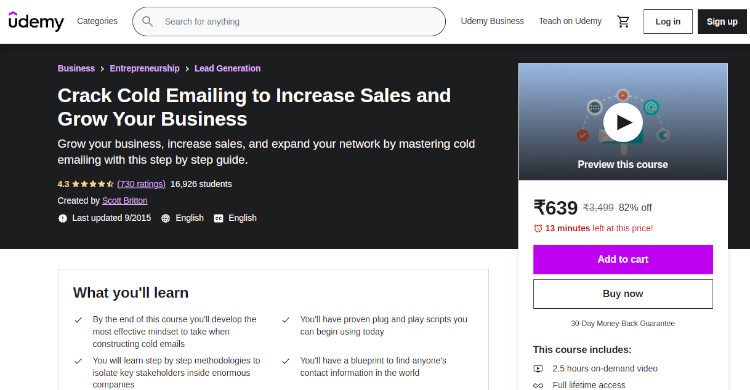 You can grow your business, increase sales, and expand your network by mastering cold emailing with this step by step guide. This course provides the blueprint to rewire the way you approach cold emailing so that you and your company can become an unstoppable force. Everything you learn in this course- the tactics, scripts, techniques are the product of years of in the field testing and rely heavily on principles copywriters have been using for years. You will learn how to find the right important key stakeholders to reach out to at a company and the six proven methods to find anyone's email address. You will learn the bandage email formula and how to follow up effectively. By the end of this course, you'll have the ingredients to develop the superpower of being an extraordinary cold emailer.
13. Getting Traffic to Your Online Business by Neil Patel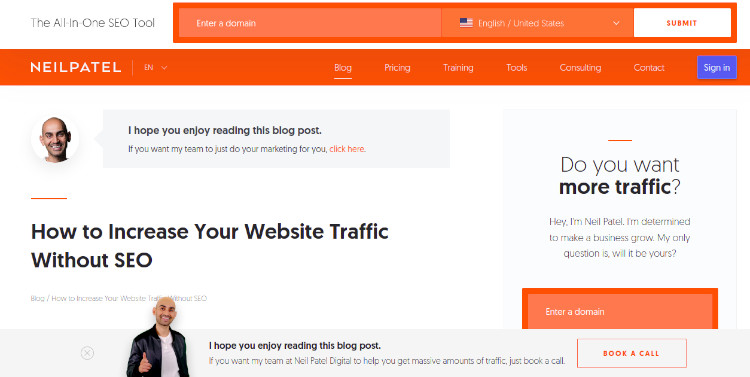 This course includes 30 minutes of practical commentary, where the instructor will review many live consumer websites to critique their digital marketing strategy and will speak to the power of developing strong content that leverages keyword selection and balancing concise content with strong visuals. This course will provide you with hands-on learning to help you master the mechanics of SEO: keywords, page optimisation, link building, and more. It will help you develop best practices and a robust toolkit to increase website traffic and understand how to leverage social media presence and content/affiliate marketing for high customer conversion rates. Your small business definitely needs a strong SEO strategy in place to enter the digital marketing playing field. You must take this course and bring your brand to the Internet era.
Roundup
Most new entrepreneurs assume that they can handle their small business marketing out of pure intuition. This makes them rely on and adopt brute force approaches to get their name out there, and they fail to connect with customers in a meaningful way. If you build a strong marketing strategy, you will be able to easily assign resources efficiently and measure results. You can take some of the best small business marketing courses with different focuses and learn how to effectively market your business. It is important to understand that your small business is competing with some big companies, and to shine out; you need to learn a set of skills. These are some of the most impactful and the best small business marketing courses you can take to create a change in your business.