A small business owner has to step into multiple shoes and tryouts to get a singleton success in the venture. The key ingredient to the best marketing automation tool is just the right software to reach out to the targeted customers. There are Amazon arbitrage tools that can help. The entrepreneur works relentlessly for 24 hours only to see the whole department in a chaotic state without proper goals and cutting-edge marketing to the segmented audience. The best tools for Amazon sellers can be extremely helpful for small businesses.
Free Marketing Tools for Small Business
Wix ( Website Marketing)
Zoho Social ( Social Media Marketing)
WordPress ( Content Marketing)
Shopify Logo Maker ( Visual Marketing)
10 Best Marketing Tools For Small Business Enterprises
1. Hubspot – Marketing Hub
The ultimate smart software with the best rankings to fit in the small business niche. The Hubspot ( Inbound Marketing Tool- https://www.hubspot.com/products/marketing) helps in integrating the best service catering to the prime needs of the customers without any kind of compromise!
There is no need to brainstorm about marketing campaigns anymore because Hubspot Marketing Hub has got it all covered for you. Let us take a look at the explicit features of this software tool.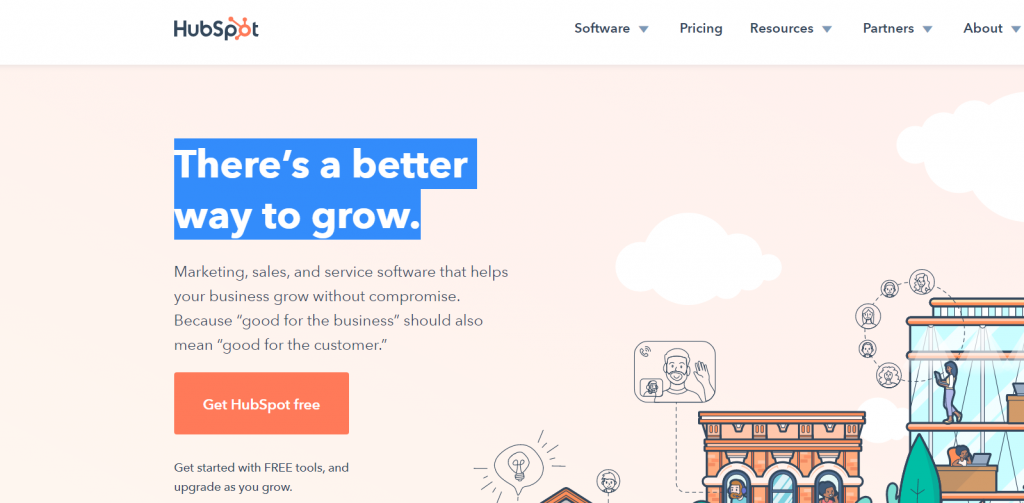 Tools – Hubspot ( Marketing Hub)
Features
Seo And Automation ( Measure Real SEO ROI)
Segmented Traffic and Calls to Action ( Measure Performance through click-through rates)
Lead Generation ( Pinpointed contents by interactive insights)
Blogging and Advertisements ( Track the ROI on social media )
Landing Pages ( Optimized pages and transitional content based on viewer profile)
Pricing – Starter Plan ( $ 40 per month billed at $480 per year) – Suitable for small business.
What do customers love about it?
Karen McCandless ( SMB marketing and Software expert) says: " Hubspot's Marketing Hub is a beast tool."
2. Mailchimp-Marketing Platform
Mailchimp has the all-integrated marketing platform to build the brand and the reputation of your business. Mailchimp helps you get hold of the potential and existing customers and just create to attract the right people to your business. It also creates reports and smart recommendations for the best service.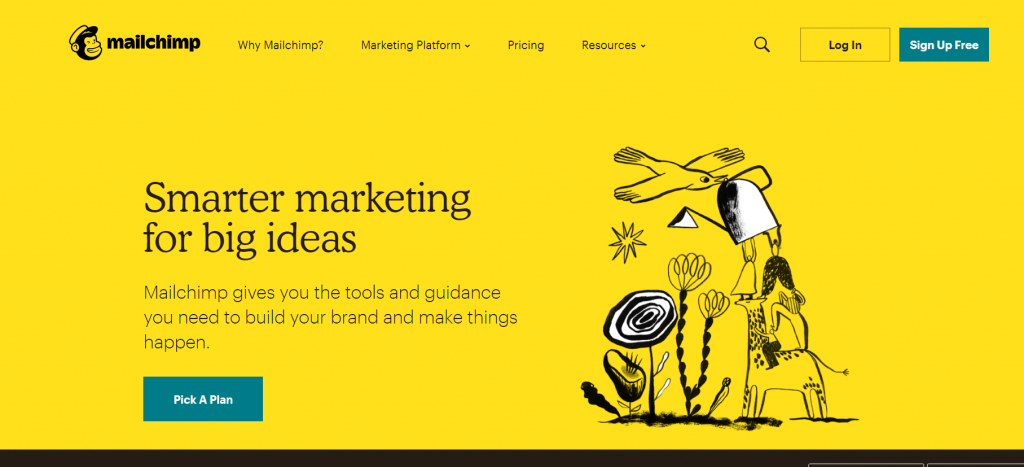 Tools – Mailchimp ( All-in-one Marketing Platform)
Features
Segmentation of the market
Prediction of demographics
Email Marketing
Reports, Analytics and A/B testing
Integrated Apps facility and Signup forms
Pricing – Essential Plan ( Rs. 770 per month) – Suited for small business enterprises
What do customers love about it?
Simply Gum says – " With Mailchimp, we can see what messaging worked for Email, ads and easily apply those learnings because everything is in one place."
3. Thryv
Thryv is a software that is simple to operate and believes in keeping the customers at the frontline of the business. It has already helped in the expansion of 350k+ small business owners. It helps in prioritizing the campaigns that grasp the viewer's attention and undertaking investment-worthy decisions with better networking.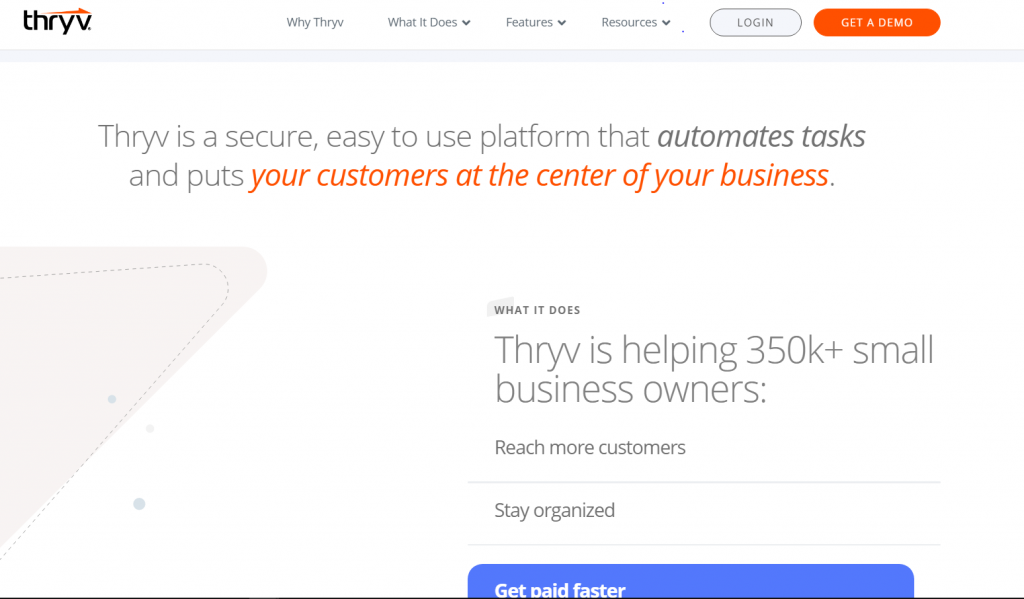 Tools – Thryv ( Marketing Automation Tool)
Features
Detailed Analytics and Insights
Massive Library Access
Click based Marketing
Automatic messaging facility
Pricing – Not mentioned specifically, contact the website at https://www.thryv.com/why-thryv/
What do customers love about it?
Will Todd ( Barbershop) says: " When clients leave, they get an automatic thank you reminder, and they have the option to schedule their next appointment."
4. Keap
Keap is a reputed marketing platform meant to grow your business in the right direction. Keep track of your clients by regulated reminders through the messages and emails in the right proportion at the perfect time. It helps the small business to stay updated with every client's texts, calls, and emails and therefore, avoiding any opportunity.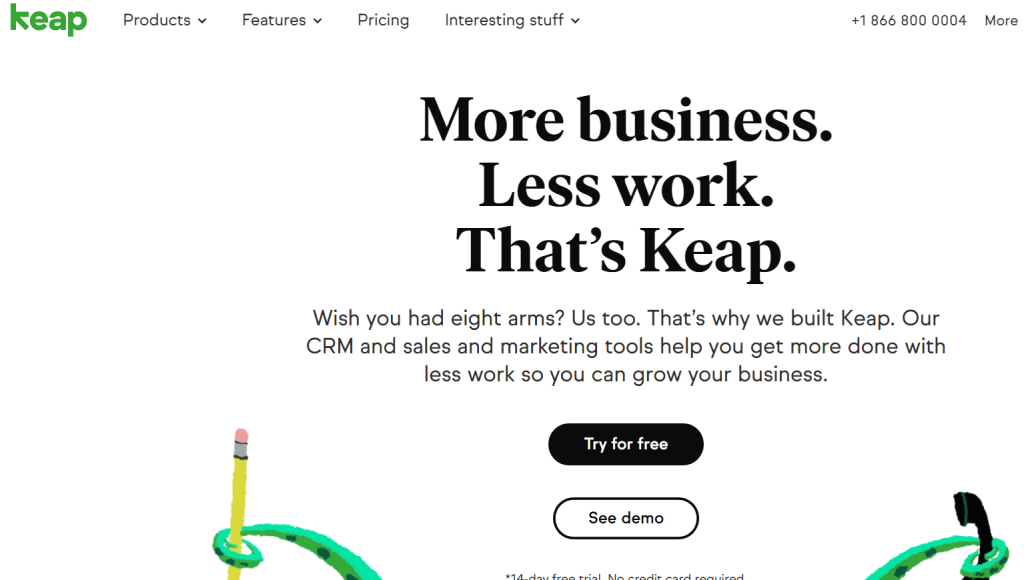 Tools – Keap ( Marketing Automation), InfusionSoft,
Features
Curated Text messages for specific clients
Helps the business to find the important emails first.
Campaign Management
Tracking opportunities and sales targets
A broad array of integrations.
Pricing – Keap Grow for small business ( $75 per month)
What do customers love about it?
Brian Del ( Credilife) says: " A robust yet easy to implement a solution for any size organization."
Bailey Witt ( MediaFuel) says: " A solid CRM and marketing tool."
5. Autopilot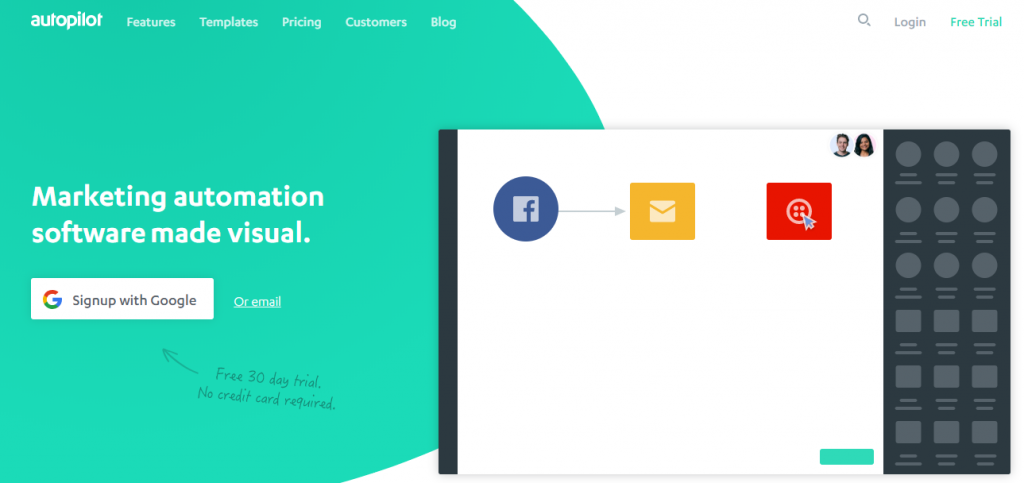 The Autopilot software tool helps in capturing and creating the customer leads to avoid repetitive tasks and save on time and escalate the productivity factor. It helps you to create a strong base for new customers and to make a customer loyal to the brand by efficacious business relationships. It helps in the integration of the functions with hundreds of popular apps and be engaging the brand on every platform.
Tools – Marketing automation, Email Marketing, Lead Management, Mult-channel Marketing
Features
Multiple-Channel Marketing – SMS Marketing, In-App Messaging, Facebook Retargeting, Google Ads Retargeting, and Postcard Marketing.
Customer Journey map and Website Tracking
Data-driven marketing and marketing analytics dashboard
Marketing CRM and Collaboration
Pricing – Silver ( $49 per month – 2000 contacts inclusive) – suitable for small business. Link – https://www.autopilothq.com/pricing
What do customers love about it?
Kate J. ( Growth Manager) says: " A great tool, with great visual cues powerful automation and integrations ."
Garrett G . ( Marketing Manager) says: " A Great Alternative to Full-Fledged Automation Software ."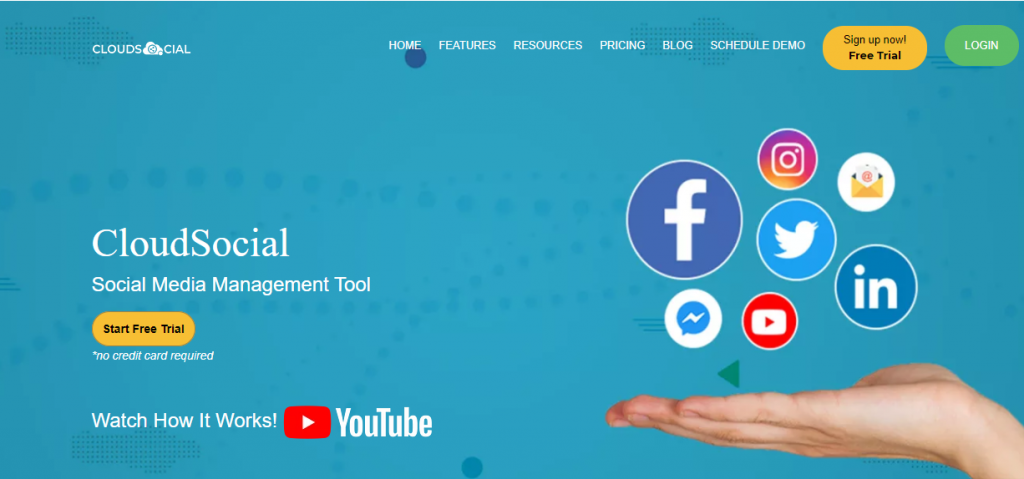 Cloudsocial is a marketing tool for small businesses on social platforms. It integrates all the social media in one place that will help your enterprise to manage multiple social accounts and engage with the prospects and audience to deliver standard service. It helps in analyzing metrics to render meaningful and content-rich insights for implementing the right social media strategy.
Tools – Publish ( Calendar, Ad manager, Plugins); Omnibox ( Multiple social channels, workflows, Tagging, and Replies ); Analytics( Customisable reports, Dashboards).
Features
Convenient scheduling possibilities
Efficient engagement with Omnibox
Analytics and reports
All the multiple social media platforms in one place
Pricing
What do customers love about it?
Jeniffer S ( Social media marketing intern ) says: " Great organizational/storage tool."
7. Drip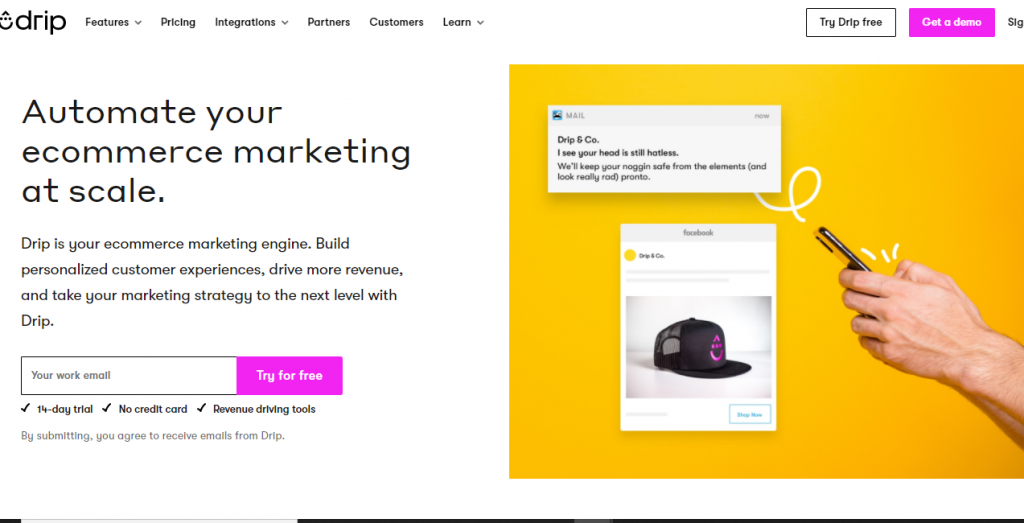 Drip is a marketing tool for small business enterprises. It is the software that acts as the an e-commerce vehicle to modulate the traffic of the website to the right audience. It is to be undertaken to build personalized experiences, driving more surplus and take the marketing strategy to update Link https://www.drip.com/
Tools – Engagement Tools ( Behavior-based automation tool, third-party integrations, Facebook and Instagram, Email )
Features
Personalization
Customer Data
Engagement and powerful segmentation
Optimization, Flexible API , Unlimited users , Email support
Pricing – The starting rate of the Drip E-commerce platform pricing is $19 each month for 100 to 500 people in the account. (Suitable for small business ventures)
What do customers love about it?
Steve P ( Founder of marketing agency) – says " Best email marketing automation software I have used a lot."
8. Sedinblue
Sedinblue is a software that helps in making your business stand class-apart. It have an extra-edge over the sales and marketing toolbox . It basically grows, sells and engages the audience in a productive manner. It dedicates the maximum efforts by communicating better with the potential and existing customers to build a stronger customer equity.
Tools – Communication tool ( Email Marketing , SMS Marketing , Chats Faciity) , Personalization Tool ( CRM,Marketing Automation) .
Features
Communication tool – Urgent messages and real-time offers promotions to the end consumers.
Chat Facility – The customers are provided the best service with a stronger FAQ and optimized chatbox.
Automation- Segmentation and marketing texts are keeping the audience posted on the brand, and it cannot just keep their minds off the customer's BlackBox once they make a positioning statement.
Pricing – Available Free of Cost to Lite ( INR 1510/ mo) – 1lac emails /mo
What do customers love about it?
Mathew V ( Marketing Manager) says: " Great value for small businesses."
Kevin W. ( Director of Online Edu.) says: " Amazing Value, versatile ."
9. OptionMonster
E-commerce is running the world as the world takes a transitional lead toward digitization. As a small business owner, you must know how crucial is "website traffic" to the well-being of your business progress. Optionmonster is a smart tool that helps you in instantly grow the email list, generate productive leads and boost sales with the class-apart conversion optimization toolkit.
Tools – Industry Segregated – E-commerce, Publishers, and Agencies Tools.
Features
Monsterlinks – 2step options – Facilitates in boosting conversion by 790%
Geo-location Targeting – It helps in pinpointing the visitor's locations and personalizing campaigns.
Exit-Intent Technology – Detect the visitor's mouse sensor and give them a message while they are leaving the website.
Campaigns Types and Triggers, Layouts, Seamless Add-ons, Reporting insights.
Pricing – Basic Plan ( $9 /mo) and Plus Plan ( $19/mo)
What do customers love about it ?
Lilach Bullock ( Entrepreneur) says: " Option Monster has a snowball effect on my business ."
Maruti Konduri (Marketing Head ) says: " OptionMonster is one of the best tools for digital marketing available."
10. Ubercircle
The brand-building wing of user circle is emerging to be the best tool in the market, compatible for small businesses especially. It is the top-graded social media management tool with unique specifications and cutting-edge technology. It helps in keeping in schedule the social media marketing campaigns – scheduling posts, planning content, and managing the scheduled content.
Tools – Content Curation, Integrations, Insights,
Features
Analyzing and creating productive reports, Planning and scheduling campaigns.
2. Instagram stories planner and tagging.
3. Influencer Marketing and security.
4. Content Planning and year-wise support.
Pricing – Starter plan – $11.99/mo and standard plan – $19.99/mo
What do customers love about it ?
Welvin A. ( director- HRM) says: " Powerful social media management tool."
Santosh G. ( Digital trainer) says: " User-friendly, one-stop solution."
Round up
In the ever-changing business environment, the small business should try experimenting with the marketing game to make the business prominent in the minds of the end consumers initially. Small businesses could use pricing profit tools, keyword research tools, and product research tools. Successful branding is the cornerstone pathway to success.